2011 Hyundai i40 sedan
Hyundai has finally unveiled the new i40 sedan at the Barcelona Motor Show. The i40 is 4-door variant of the i40 wagon, which the manufacturer has already unveiled at the Geneva Auto Show in March.
The i40 sedan boasts a purely European identity having been designed and engineered at the European R&D headquarters of Hyundai in Rüsselsheim, Germany. The car is the latest model to be unveiled under the company's new brand slogan – "New Thinking. New Possibilities."
The engine range features 2.0 liter direct injection petrol with 177PS (130 kW) and 213Nm (157 lb0ft) of torque. The 1.7 liter diesel comes in two variants - 115 PS (84 kW) and 255Nm (188 lb-ft) and a more powerful 136PS (100 kW) version. The diesel power unit features Blue Drive technology, so the fuel economy is just great – 4.3 liters per 100km and 113 g/km of CO2.
Hyundai i40 sedan can be specified with Bluetooth phone connection, lane-departure warning, smart-parking assistance and a rear-view camera. There are also heated rear seats, heated steering wheel and air-ventilated front seats.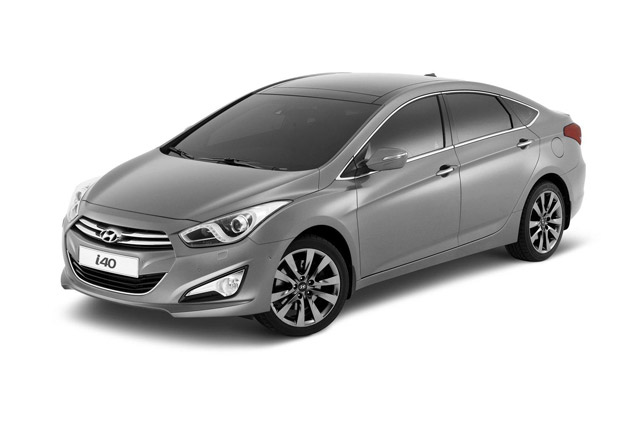 Hyundai i40
Diesel engines
1.7-litre 115 ps
Type / capacity
U-II, DOHC, four-cylinder, 16-valve with HLA / 1685 cc
Power / torque
115 ps (85 kW) @ 4000 rpm / 260 Nm (26.5kgm) @ 1250-2750 rpm
Emissions
122 g/km (113 g/km when fitted with ISG)
1.7-litre 136 ps
Type / capacity
U-II, DOHC, four-cylinder, 16-valve with HLA / 1685 cc
Power / torque
136 ps (100 kW) @ 4000 rpm / 325 Nm (32,0kgm) @ 2000-2500 rpm
Emissions
124 g/km (119 g/km when fitted with ISG)
Gasoline engines
1.6-litre 135 ps
Type / capacity
Gamma GDI, four-cylinder, 16-valve with MLA / 1591 cc
Power / torque
135 ps (99 kW) @ 6300 rpm / 164 Nm (16,8kgm) @ 4850 rpm
Emissions
149 g/km (140 g/km when fitted with ISG)
2.0-litre 177 ps
Type / capacity
Nu GDI, four-cylinder, 16-valve with HLA & Swing ARM / 1999 cc
Power / torque
177 ps (130 kW) @ 6500 rpm / 208 Nm (21,7kgm) @ 4700 rpm
Emissions
156 g/km
Transmissions
1.7 / 115
1.7 / 136
1.6 / 135
2.0 / 177
Manual / speeds
6
6
6
6
Automatic / speeds
----
6
----
6
Suspension & Damping
Front
Fully independent subframe-mounted MacPherson struts, with coil springs and gas-filled shock absorbers. Anti-roll stabiliser bar.
Rear
Fully independent subframe-mounted multi-links, coil springs and gas-filled ASD shock absorbers.
Steering
Type
MDPS (Motor Driven Power Steering)
Gearing
2.88 turns lock-to-lock
Turning radius
5.46 metres
Brakes
Front
320 mm ventilated discs
Rear
300 mm solid discs
Wheels & Tyres
Standard
7,0Jx16
205/60 R16 tyres
7,5Jx17
215/50 R17 tyres
8,0Jx18
225/45 R18 tyres
Dimensions (mm)
Exterior
Overall length
4,74
Overall width
1,815 (excluding door mirrors)
Overall height
1,47
Wheelbase
2,77
Front overhang
920
Rear overhang
1,05
Front track
1,591
Rear track
1,597
Interior
Front
Rear
Head room
1,025
965
Leg room
1,17
850
Shoulder room
1,455
1,42
Capacities (litres)
Fuel tank
70 l
Luggage
503
Performance* (manual transmission)
1.7/115
1.7/136
1.6/135
2.0/177
Top speed (kph)
190
198
195
210
0-to-100 kph (sec)
12,9
10,6
11,6
9,7
Economy (manual transmission)
1.7/115
1.7/136
1.6/135
2.0/177
Litres / 100 km**
4,3 (ISG)
4,5(ISG)
6,0(ISG)
6,8
CO2 (g/km)
122
124
149
156
CO2 (g/km) with ISG
113
119
140
---
* Figures stated are manufacturer's estimates
Source: Hyundai