2012 Ford Ranger - 5 Star Euro NCAP rating
2012 Ford Ranger has achieved a maximum 5 Star rating under the Euro NCAP crash test protocol.The Ranger scored 89% for overall safety, which is the best score ever earned by a pick-up truck.
"Vehicle safety is a core value at Ford Motor Company and these independent test results confirm that not only is Ranger the highest rated vehicle in its class, it is also one of the highest rated vehicles ever assessed by Euro NCAP," said Stephen Odell, chairman and CEO, Ford of Europe.
"No one wants to be involved in an accident but if the worst were to happen, the new Ranger is proven to provide outstanding protection to occupants of all ages as well as pedestrians.", he added.
"With such good pedestrian protection, the Ford Ranger is undoubtedly raising the bar of safety in the category of pick-up trucks, which had until now not proven to be the safest.", finished Michiel van Ratingen, Euro NCAP secretary general.
Using sophisticated computer modelling, engineers assessed more than 9 000 virtual crash tests before any of the 110 actual vehicle crash tests or 410 system sled tests were undertaken. These virtual simulations allowed the engineers to optimise the vehicle structure and safety systems to provide the maximum levels of protection possible in a wide-range of real-world collisions. All this was achieved before any real prototype vehicle was built and subjected to crash testing.
2012 Ranger comes with side curtain airbags, new side airbags, front airbags and driver's knee airbag. All these come as standard as well as three-point safety belts for all seating positions, with pre-tensioners and load limiter for the front seats.
On top of the occupant safety technologies, the all-new Ranger has been engineered with the latest pedestrian protection features. This includes a "hexageneous" under-bonnet structure to reduce the potential for pedestrian head injuries, and a pedestrian-friendly front bumper design incorporating energy-absorbing materials.
Last, but not least, the new Ranger features Electronic Stability Programme (ESP) that uses advanced sensors to constantly monitor the vehicle's behaviour and assist stability and control. There are also Adaptive Load Control provides additional stability assurance for drivers dealing with heavy payloads and Hill Descent Control ensures that the brakes will be applied to control the vehicle at a set speed. Or when stopping on a steep grade, Hill Launch Assist helps the driver to pull away confidently without creeping backwards, even when fully laden.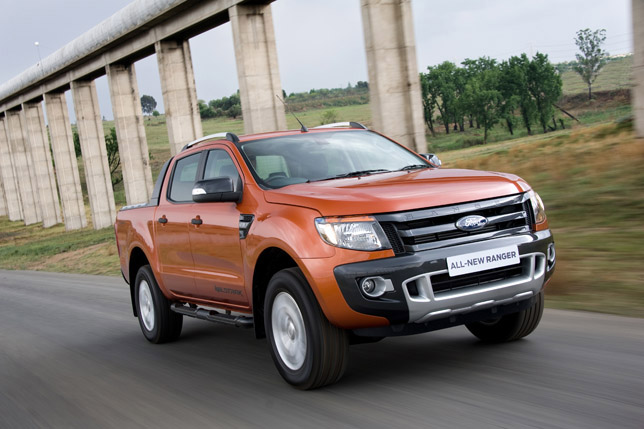 Source: Ford