2012 Honda Civic
Honda has revealed the 2012 Civic just a month after unveiling the concept versions at the North American International Auto Show in Detroit.
2012 Honda Civic is expected to hit the market later this summer. It features new front and rear bumpers, a revised grille, and restyled taillights. The interior is practically the same except the new steering wheel, a revised instrument cluster, and an updated dashboard.
The engine range includes four power units. The first is a 1.8-liter four-cylinder petrol with 142PS (104 kW), which achieves 39mph highway. The Civic HF (High Efficiency) also uses the 1.8-liter engine, but aerodynamic tweaks help to give it an extra 2 mpg highway. The next is a 1.5 liter i-VTEC  with a small electric motor that is powered by lithium-ion batteries. There are no further data about it, but the expected efficiency rating is about 45mph (combined cycle).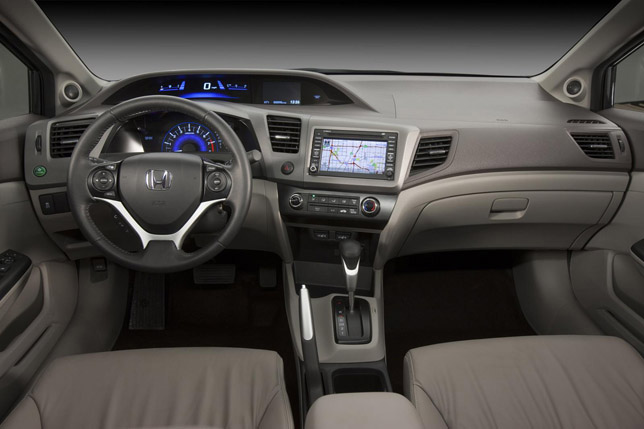 The sports version - Civic Si is powered by a 2.4 liter petrol with 203PS (149 kW) and 230Nm (170 lb-ft) of torque. It is mated to a new 6-speed manual transmission, which enables the Si to return an estimated 31 mpg highway.
Finally, there will be a 1.8-liter natural gas model offered in Civic GX.
2012 Honda:
140 horsepower, 1.8-liter i-VTECTM 4-cylinder engine
5-speed automatic transmission
EPA-estimated Civic HF highway fuel economy: 41 mpg
EPA-estimated Civic Sedan and Civic Coupe highway fuel economy: 39 mpg
Civic Hybrid:
110 horsepower, 1.5-liter i-VTECTM 4-cylinder engine (combined gasoline + electric)
Continuously Variable Transmission (CVT)
EPA-estimated Civic Hybrid city/highway combined fuel economy: 45 mpg
Civic Si
200 horsepower and 170 lb-ft, 2.4-liter i-VTECTM 4-cylinder engine
6-speed manual transmission
EPA-estimated Civic Si highway fuel economy: 31 mpg