2013 Mercedes-Benz E-Class - Price €40,430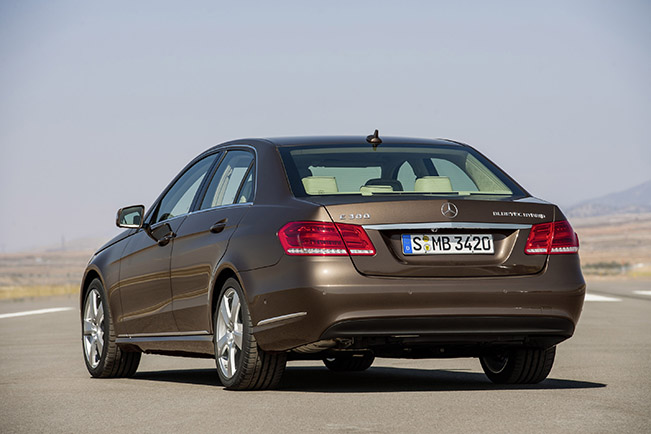 Mercedes-Benz has published the price list for the all-new 2013 E-Class. Both – Saloon and Estate version are available with a wide range of engines, equipment and limitless individual options.
The engine range includes four four-cylinder diesels – E 200 CDI, E 220 CDI, E250 CDI and E 300 BlueTEC Hybrid, which is currently the most economical luxury-class saloon, which in addition to the four-cylinder diesel engine also has a 20 kW (27HP) electric motor. The six-cylinder diesels are E 300 BlueTEC and E 350 BlueTEC, which are revised and fitted with environmentally friendly and efficient BlueTEC technology.
The petrol choice is between – E 200, E 250, E 300, E 400, E 500 and the high-performance E 63 AMG. All are engines are fitted with the ECO start/stop system and combine high performance with exemplary economy. The power output levels range from 184HP (135 kW) to 585HP (430 kW) for the petrol engines, and from 136HP (199 kW) to 252HP (185 kW) for the diesels.
The price starts at €40,430 (including VAT) for 2013 Mercedes-Benz E 200 CDI and goes up to €121,023 for E 63 AMG 4Matic S Estate.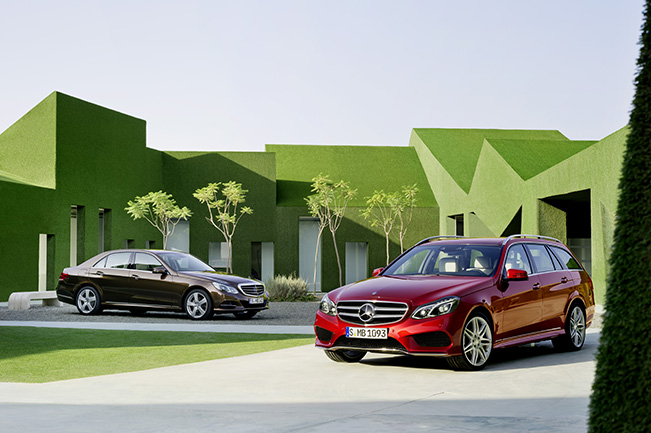 As standard, both the Saloon and Estate models are fitted with COLLISION PREVENTION ASSIST, a radar-based collision warning system with adaptive brake assist systems. It helps to significantly reduce the risk of a rear-end collision. Also forming part of the standard equipment is an enhanced ATTENTION ASSIST, which is now able to warn of inattentiveness and drowsiness across a wider speed range.
In addition, also optionally available are a number of assistance systems which are either new or now feature significantly extended functions. These include:
DISTRONIC PLUS with Steering Assist can help to take the burden off the driver when it comes to keeping the vehicle in its lane and also track traffic in tailbacks semi-automatically
for the first time, the Brake Assist system BAS PLUS with Junction Assist is able to detect crossing traffic and pedestrians too, and boost the braking power applied by the driver accordingly
the PRE-SAFE® Brake can detect pedestrians and initiate autonomous braking to avoid a collision at speeds up to 50 km/h
Adaptive Highbeam Assist Plus allows the main-beam headlamps to be kept on permanently without dazzling traffic by masking out other vehicles in the beams' cone of light
As ever, there are attractive design packages to visually enhance both the interior and exterior. Furthermore, the new E-Class offers a variety of individualisation options. Irrespective of the chosen equipment line, all appointment options remain available. As such each vehicle can be individually tailored to ensure that it is unlike any other. For example, a Saloon or Estate can be totally classic on the outside, but display a highly modern character on the inside.
Pricing:
| | | |
| --- | --- | --- |
| | Saloon | Estate |
| E 200 CDI | €40,430.25 | €43,643.25 |
| E 220 CDI | €43,286.25 | €46,499.25 |
| E 220 CDI Edition | €43,286.25 | - |
| E 250 CDI | €46,320.75 | €49,533.75 |
| E 250 CDI 4MATIC | €51,556.75 | €54,769.75 |
| E 300 BlueTEC HYBRID | €52,449.25 | €55,662.25 |
| E 300 BlueTEC | €51,973.25 | €55,186.25 |
| E 350 BlueTEC | €54,710.25 | €57,923.25 |
| E 350 BlueTEC 4MATIC | €57,447.25 | 60,660.25 |
| E 200 | €41,917.75 | €45,130.75 |
| E 250 | €46,975.25 | €50,188.25 |
| E 300 | €51,229.50 | €54,442.50 |
| E 300 4MATIC | €53,966.50 | €57,179.50 |
| E 400 | €56,019.25 | €59,232.25 |
| E 400 4MATIC | €58,756.25 | €61,969.25 |
| E 500 | €70,656.25 | €73,274.25 |
| E 500 4MATIC | €73,393.25 | €76,011.25 |
| E 63 AMG | €103,054 | - |
| E 63 AMG 4MATIC | €106,981 | €109,599 |
| E 63 AMG 4MATIC S | €118,405 | €121,023 |
Prices apply to Germany and include 19% VAT
Source: Mercedes-Benz