Nasty Acura NSX EV Concept is about to conquer Pikes Peak with winner Tetsuya Yamano behind the wheel
The supercar is driven by world's first all-electric four-motor SH-AWD drivetrain
Tetsuya Yamano will again be featured in Acura's team for Pikes Peak, but this year he will be sitting behind the steering wheel of an NSX EV Concept (he is currently making extensive tests). He is going to be competing in the Electric Modified Class, raising the bars high. Last year he was first in the Challenge Exhibition class with a time of 10:23.829 in an all-electric Honda CR-Z prototype. The Japanese brand is also running two NSX hybrids in the hill challenge.
But what's the difference between the CR-Z and the NSX EV? Well, both are driven by the same powertrain, which won last year's Pikes Peak Challenge Exhibition class. However, Acura's EV Concept features a further evolution of the experimental all-electric unit. In other words, the supercar will be driven by world's first 4-motor Super Handling All-Wheel Drive drivetrain, or how Acura named it – the SH-AWD.
SEE ALSO: Honda reveals details about "the new NSX" [w/video]
In short, the benefit is that the electric SH-AWD powertrain enables four-wheel independent torque allocation, thus producing three times the total system output of last year's electric prototype. All of this is put inside NSX' body to look more dramatic and menacing. And it is most certainly the best looking EV we have seen for a while. Unfortunately, only in a concept variant.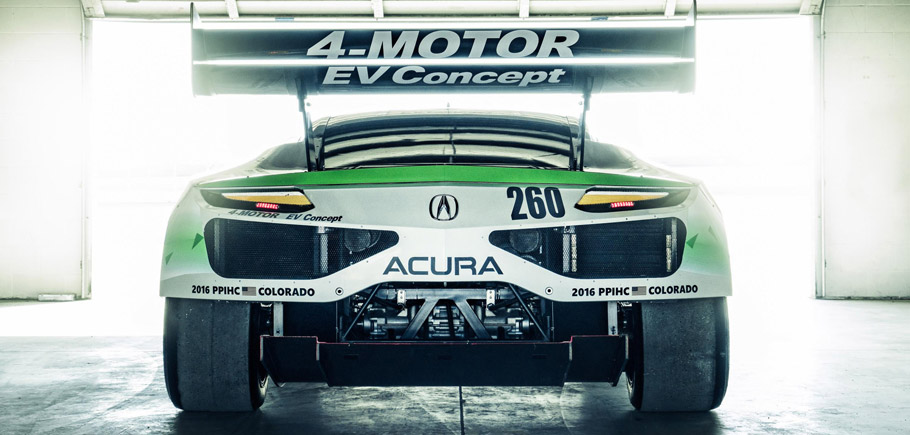 "So, what's the deal with the SH-AWD hype," you might ask.The secret hides in the application of separate Twin Motor Units (TMUs) on each axle. This is how Acura actually achieved independent torque distribution to all four corners. In addition, the new technology uses highly responsive acceleration characteristics. Combined with the regeneration capability of electric motors, this further advances the torque vectoring systems that are currently applied to NSX. The experience and knowledge gained will be utilized in Acura's RLX and the upcoming MDX.
Acura NSX EV Concept with its high-output electric motors and 4-motor torque vectoring will compete in the 156 complex corners up Pikes Peak on June 26th.
Source: Acura