Alfa Romeo Disco Volante by Touring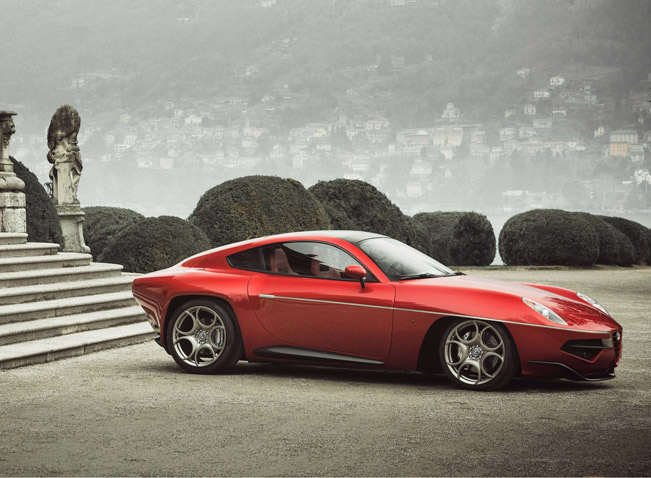 This year marks the 60th birthday of the legendary Alfa Romeo 1900 C52 'Disco Volante'. In order to celebrate this anniversary the prestigious Milanese coachbuilding firm Touring Superleggera created the 2013 edition of the Disco Volante.
The model presented here is a two-seater Gran Turismo with a entirely bespoke, hand-made carbon fibre and aluminium body. It is equipped with front-central mounted 4.7-litre V8 engine and transaxle rear drive. The Disco Volante reaches a top speed of 180mph and accelerates from 0 to 100 km/h in only 4.2 seconds.
Alfa Romeo Disco Volante by Touring has a design that combines innovation, emotion and aerodynamic characteristics. Inside, the 2013 Disco Volante includes red LED interior light profiles, and also aeronautical-inspired touches which are featured on the dashboard, instruments and controls. Bespoke leather is used for the upholstery; the seats are wrapped with black Alcantara.
Touring Superleggera used as a basis the characteristics of Alfa Romeo 8C Competizione. The chassis if the latter forms the basis for the coach-built bodywork of the vehicle. Alfa 8C's steel space-frame, the frame members and the central carbon cell were also retained.
In addition, what also has been kept here are the engine bay and firewall, the windscreen and cowl, the A-pillar and the locks and hinges as well as the dashboard, instruments, pedals and steering wheel. Modification underwent the doorframes, roof frame and C-pillar in order to match the new shape of the car.
The engine included here, as mentioned, is the 4.7 litre V8 one, which generates 450 hp (330 kW) and 480 Nm (355 lb-ft) of peak torque. It is coupled with a six-speed, sequential transaxle gearbox with electronic control and paddle-shift gear selection. In combination with the limited-slip differential and braking system with large diameter, ventilated discs, they deliver excellent driving dynamics and exciting ride.
In order to guarantee the torsional stiffness and noise reduction of the car, a very special attention has been paid to the under-body structure, the tubular frames supporting the rear wings and bumper, and the roll bar joining the C-pillars.
Disco Volante has lightweight bodywork thanks to the use of a combination of aluminium and carbon fibre. The latter element is utilized for specific components such as the front bumper and grille, the bonnet, the side skirts, the boot lid and the integrated rear-window frame.
The bonnet and boot lid are sandwich-built with Nomex filler to obtain a superior stiffness/weight ratio and to dampen vibration and noise. On the other hand, aluminium panels are hand-made using an epoxy mould.
PERFORMANCE
Top speed (est)
292kph / 181mph
Acceleration (est)
0-100kph (0-62mph) in 4.2seconds
DIMENSIONS
Length
4,620mm
Width
2,032mm
Height
1,309mm
Wheelbase
2,640mm
Track front/back
1,591mm/1,589mm
Boot volume
142-litres
Fuel tank capacity
88-litres
ENGINE
Cylinders / type
8 / V  90°
Cubic capacity
4,691cm³
Nominal output
331kw/450HP@7,000rpm
Max torque
480Nm@4750rpm
Emission level
Euro 5
ECONOMY
Urban
23.6l/100km (12mpg)
Extra-Urban
11.4l/100km (24.8mpg)
Combined
15.8l/100km (17.9mpg)
CO2 emissions
377g/km (combined)
DRIVELINE
Rear wheel drive
6-speed, electroactuated sequential gearbox with paddle-shift control and automatic mode
Limited slip differential
WHEELS
Tyres
Pirelli PZero Rosso, front 245/35 ZR20, rear 285/35 ZR20
Wheel type
Aluminium forged wheels
Source: Alfa Romeo