Powerful as a Blizzard, Advanced as an AMG machine: the new G 63 Titan is Here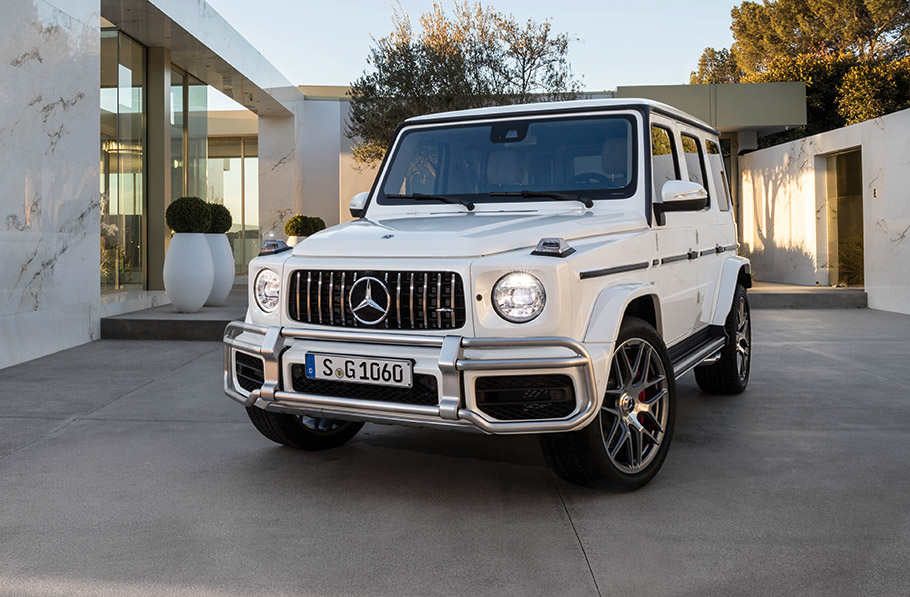 Yep. Monstrous in power and appearance. As any G Class machine should be. And more precisely, as any G-Class with AMG modifications should be. The latest G 63 vehicle comes with all the confidence that usually surrounds this segment and also with all the neat goodies that both Mercedes-Benz and AMG team can deliver. So, let's delve right in and find out what this bad boy offers to the automobile maniacs.
Exterior Design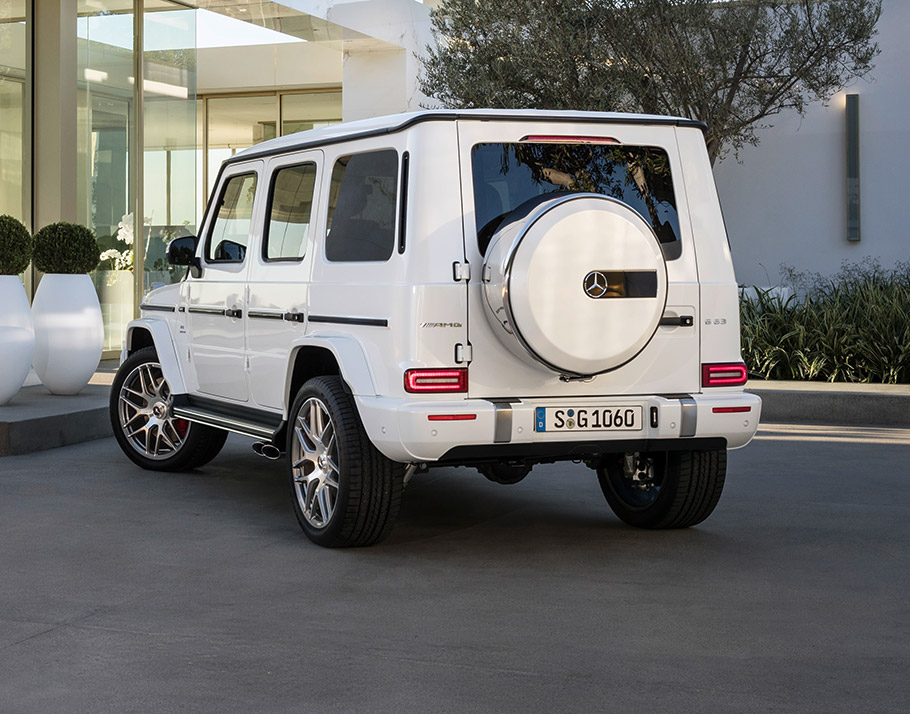 As you might well have expected, this is a 100% G-Class: straight lines, sharp angles and a stance ready for battle. All this is covered with unusual white finish ad some additional small detailings. The front face features an AMG radiator grille, AMG bumper, large air intakest and the usual for Mercedes-Benz headlamp design, idicators LED lamps.
What has caught our attention is the roof. It is no longer spot-welded, but connected to the body by laser welding. By using this technology, engineering team has achieved more body strength and somehow more modest and straightforward design. Furthermore, there are numerous AMG-specific goodies. The new G 63 comes with flared front and rear wheel arches, distinctive trim components, new front and rear bumpers and all this is topped with 22-inch weels, perforated brake discs and sporty red brake calipers.
Interior Design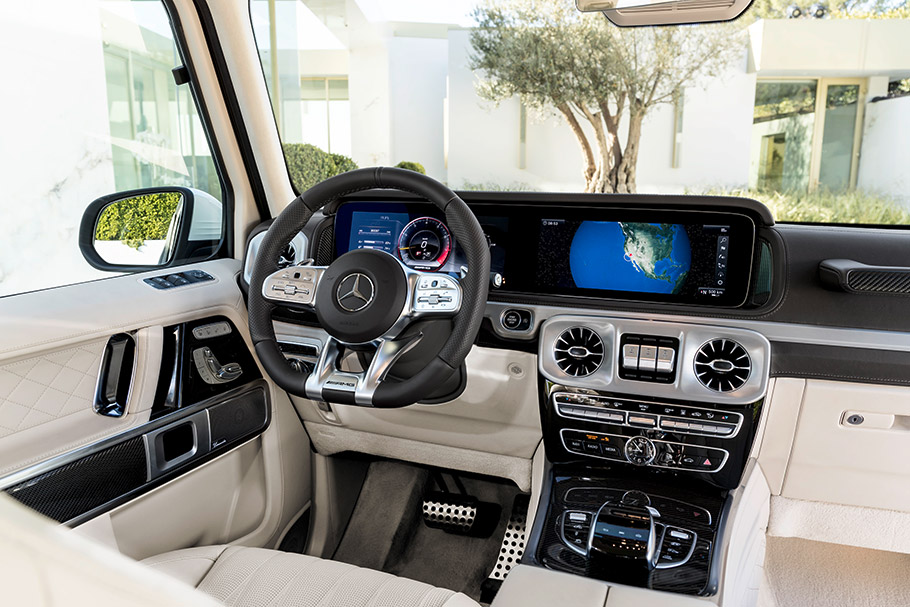 As it comes to the cabin, both AMG and Mercedes teams have done something exceptional. G 63 comes with completely restyled design that offers both comfort and fuctunality. For example, the revised dashboard features analogue tubes and adopts the digital Widescreen Cockpit with virtual instruments. Of course, there is this large display and all additional features that come with it. In fact, the whole cabin is straightforward and sharp-looking just like the exterior. The seats are geared with tons of convenience functions and of course, deliver pleasurable experience and safe ride.
SEE ALSO: 2018 Touareg sketches and promises: what should we expect?
And as some might well be surprised, the cabin is also dominated by the white color. We are used to witness mainly black C-Class machines, but this time the latest edition deciced to switch strategies. And still, the white and mainly light-colored components manage to deliver that luxurious feeling and completely resemble the whole styling concept of the vehicle.
Drivetrain system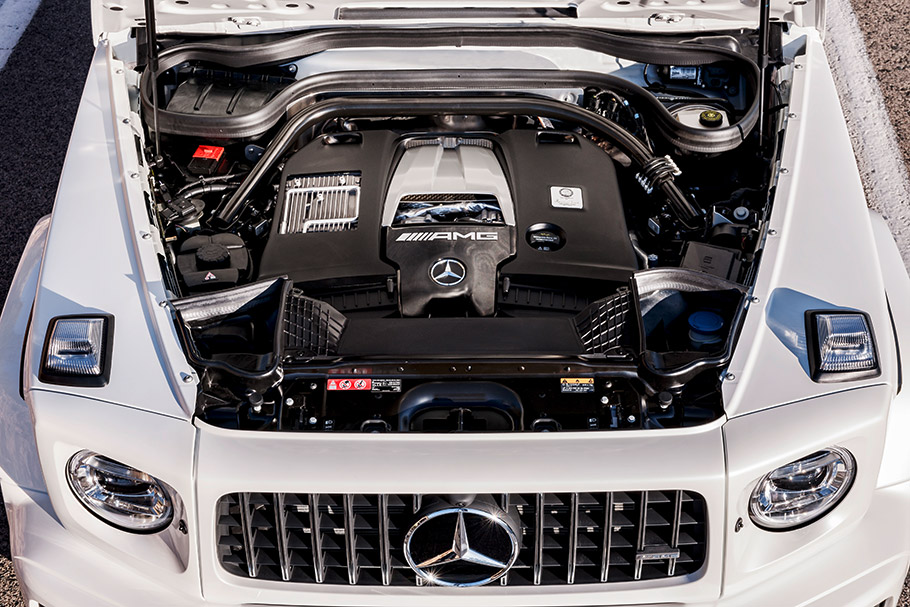 The AMG G-Class is geared with a mighty 4.0-liter V8 biturbo power unit that replaces the older 5.5-liter V8 biturbo engine. The new guy is capable of producing a total of 585hp (430kW) and 850Nm of torque. Sweet, isn't it? This also means that the G 63 can speed up from zero to 100km/h in mere 4.5 seconds and chase a top speed of 220km/h.
SEE ALSO: 2018 Pace Car by Kahn Design: The One We Wanted To See
Further under-the-hood goodies include two twin scroll turbochargers, modified pistons, revised intercooling system and of course, fresh software upgrades. And let's not forget the special AMG Cylinder Management deactivation system: it adds to the fuel consumption and power output efficiency and wider engine speed range that now goes between 1000 and 3250rpm. Cool right?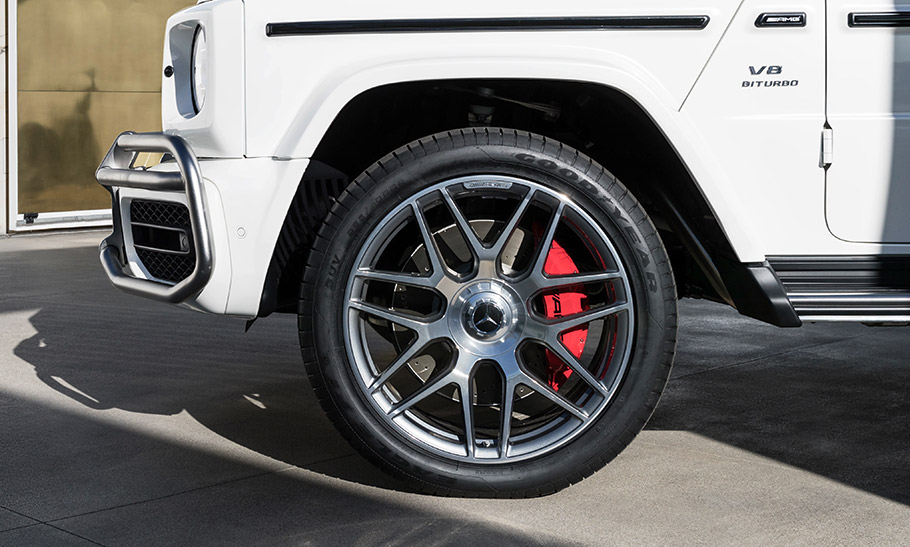 This whole power is tamed by a fine-tuned AMG SPEEDSHIFT TCT 9G gearbox. It delivers super short shift times and also offers new driving modes. Drivers now can choose between the new "Sport" and "Sport Plus", along with the usual "Slippery", "Comfort" and "Individual". It distributes the power to all the four wheels, thanks to the 4MATIC AWD system. Of course, we should mention all additional and exclusive AMG gadgets: AMG Ride Control Suspension with impressive off-road capabilities, AMG speed-sensitive steering and all the safety features.
Source: AMG