Bentley Flying Spur Beluga Offers Striking Styling and Features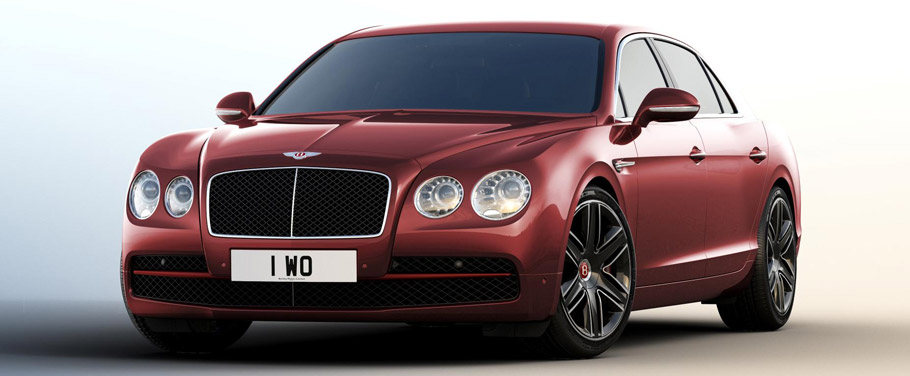 Bentley Flying Spur Beluga looks athletic and confident. It is the new specification level that the company has just introduced for the Flying Spur V8 model range. The luxury four-door sedan comes with striking exterior and interior styling cues that boost its visual appeal and charm. Some of its distinctive features are the 20-inch alloy wheels, gloss black radiator and cabin styling highlights.
Exterior
The exterior of the car is contemporary and undoubtedly more athletic than its siblings in the Flying Spur range. The purposeful visual appeal of the Beluga is emphasized via exclusive 20-inch Black and Bright machined alloys fitted with low profile tires.
SEE ALSO: 2014 Bentley Continental Flying Spur Revealed [VIDEO]
In addition, this is further strengthened via the gloss black radiator matrix and a body-colored lower grille bar. In other words Bentley Flying Spur Beluga is a specification, which is the perfect example of enhancement for a modern performance saloon and craft and comfort.
There is also the option to specify the popular Mulliner Driving Specification, in combination with the Beluga specification. In this case, the car will be fitted with striking 21-inch six-spoke 'Extrovert' wheels.
Interior
The cabin of the Flying Spur Beluga has been entirely created by hand. The interior is filled with extremely luxurious features like swathes of piano black veneer and knurled gear shift paddles. Contrast stitching has been applied to the luxurious seats and steering wheel as well as deep pile floor mats and boot carpet. There is also an onboard WiFi featured in the specification.
The interior of the Bentley Flying Spur Beluga with Mulliner Driving Specification features diamond quilted hides, a knurled gear lever, drilled alloy pedals and an indented hide headlining.
Engine
Just as any other Flying Spur in Bentley's range, the Beluga comes powered by the 4.0-litre, twin-turbo V8 engine. The unit produces 500 hp and can sprint from 0 to 60 mph in just 4.9 seconds. The 0-62 mph is measured at 5.2 seconds. At the same time the car offers a single-tank range of 500 miles.
Designed for comfort and refinement, the Flying Spur has benefitted from a suite of upgrades and enhancements for 2015. The exquisite cabin gains modern and tactile new features (as well as onboard WiFi) to maintain Bentley's reputation for interior style and usability.
Bentley Flying Spur Beluga is currently available to order. First deliveries are expected in the autumn.
Source: Bentley