Chevrolet Introduces Six Gen Camaro Accessories and Performance Parts

Chevrolet has just introduced a wide range of accessories which come in help to those seeking more personalization options for their Camaro. The company is also offering additional performance parts for sportier driving. 
Gen Six Camaro is getting ready to roll into showrooms this fall, and this is why Chevrolet is making a double introduction with available accessories and performance parts. There is literally everything that one could want: from performance air intake and exhaust systems, to lowering kits, ground-effects packages, spoilers and even performance Brembo brake systems.
SEE ALSO: Customers Tailoring Their 2016 Chevrolet Camaro for the First Time [Pricing Revealed]
Performance Exhaust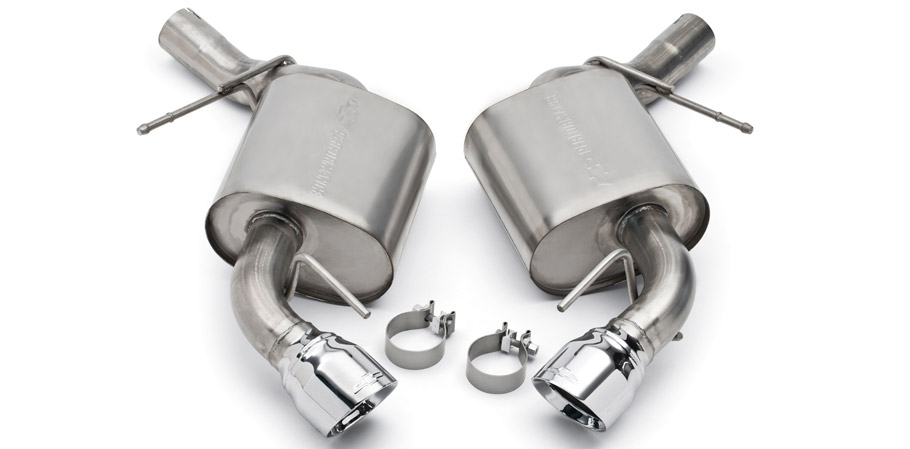 New performance exhaust kits are prepared for the Camaro SS equipped with the LT1 V-8 and Camaro LT with the 3.6L V-6. Their sole purpose of is to enhance performance sound and add to the appearance of the car. However, you should note that the kits are not compatible with the available dual-mode exhaust system.
Suspension Lowering Kits
These comprise of front and rear coil springs, tuned struts and shocks. They lower the vehicle up to 0.8-inch (20mm), while optimizing ride quality and performance. In addition, they also offer lower center of gravity. There are exactly four kits are tailored for LT and SS coupe and convertible models. And by the way, the SS kits are not compatible with vehicles equipped with the available Magnetic Ride Control.
Brembo Performance Front Brake Package (Four-Piston Calipers)
This upgrade comes for the Camaro LT models with the 2.0L Turbo and 3.6L V-6 engines. The kit features Brembo's four-piston aluminum calipers in red with performance brake pads and vented and slotted Duralife rotors.
Brembo Performance Front Brake Package (Six-Piston Calipers)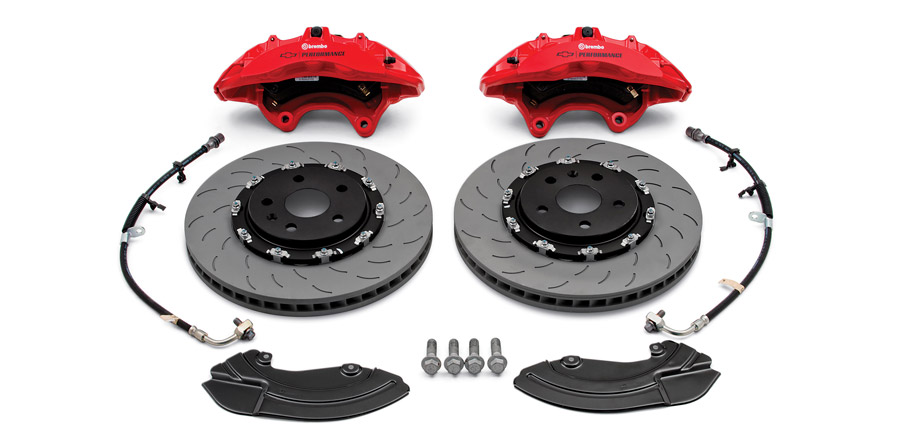 They offer the ultimate braking performance but at the same time provide street drivability. This time, the Brembo front brake system includes six-piston monoblock aluminum calipers in red with performance brake pads and two-piece vented and slotted Duralife rotors.
Performance Air Intake
You won't find the performance air intake in the dealers this fall, but in the beginning of 2016. It will help your Chevy reduce air restriction and include a reusable open-element air filter.
Engine Covers
Their function is simple but very important and can be summed up in one word: style. The Camaro engine covers are easily installed and show-quality appearance. They will be available in red, blue or black for the V-8 and V-6 engines and a cover for the 2.0L Turbo engine.
Other Accessories
Other accessories that we want to mention here are the three aluminum wheel designs; grille kits with six body-color inserts for LT and SS models; blade-style rear spoiler and ground effects kit, each offered in 10 colors; four exterior graphics packages; smoked taillamp lenses and blacked-out or LED-illuminated bowtie emblems, etc.
If you are in a hurry to spoil your Six Gen Camaro, then you can do that via the online Camaro Visualizer.
Source: Chevrolet