Citroen Roll Out The C4 Cactus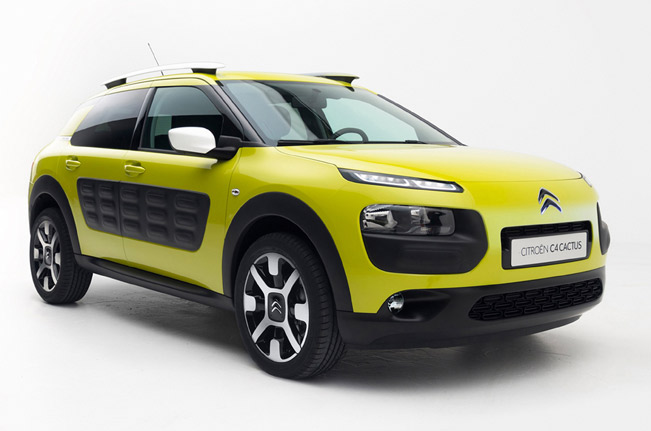 This is the completely real (as in "production") Citroen C4 Cactus here to rock your world.  Now, we know you might be thinking, "Production you say? Then what are those designy thingies on it?"
Ah, you see, that's the Cactus' thermoplastic polyurethane shell (TPU). Well, here's a more rustic name for it: Airbump® – it's supposed to do away with dents and scratches in real life. Found on the front and rear bumpers and the sides, the Airbump® provides a type of buffer zone which protects the actual body. We guess "bubble wrap" was already taken, huh?
So we have cushions on the outside, a mind-bending array of driving aids - park assist, a reversing camera, hill-start assist, to name a few – have they lost all confidence in the human proneness to accidents...oh.
Yes, "clever" is the word of the day. The C4 is sleek and slippery, it's spacious, comfortable and very high-tech....for a cactus. Who needs dials and needles nowadays when there's an app for that? A 7-inch touchscreen conjures up any cluster you might fancy - from the air conditioning controls to the yellow pages index. Face it, we've all felt the need to order Chinese whilst behind the wheel. Feel free to order as much as you want too. See, despite being arguably small (4.16 m long; 1.73 m wide) the Cactus is till a C-class vehicle. Ergo, you still get a 358 liter boot. A UV-protective panoramic roof amplifies the sense of space even more.
If you go for the optional Efficient Tronic Gearbox (ETG) you also lose the stick. Instead, there's this selection system that Citroen is trying to push on us called the Easy Push. Yeah, we made the lamest pun ever.
And no, the Cactus doesn't have an iPhone for an engine, but there is no fusion reactor to be found either? More like a 110bhp turbo three-cylinder petrol at best. But that's ok because the whole thing weighs no more than a 1000 kg thanks to a heavy aluminum diet. It shouldn't be too sluggish is what we mean. And with the Stop/Start system as standard, the Cacti (plural) fuel economy and emission values are rated at around 91.1 mpg and less than 100 g/km of CO2 - cleanliness truly is next to godliness.
Source: Citroen