Citroen DS Wild Rubis Concept Unveiled Ahead of Shanghai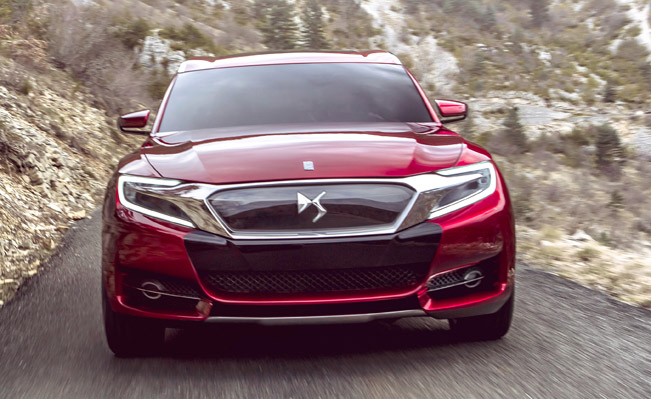 Citroen DS Wild Rubis Concept is a one-of-a-kind model that has just been unveiled prior to its official premiere at Shanghai Motor Show later this month. The vehicle shows the design and technology directions of a future DS SUV.
DS Wild Rubis adds to the model range of DS3, DS4, DS5 and the Numéro 9 concept with its inimitable style. The concepts emotional exterior shows sophistication in design and attention to detail.
The model is destined to be a full-hybrid and includes plug-in technology, and it is packed with technological innovations. The unique profile of this Citroen concept mixes the powerful appearance of an SUV with the refined style of the DS line.
The model is 4.7 m in length, 1.95 m in width and 1.59 m in height, while its wheelbase is of 2.9 m. The car runs on 21" wheels that add its power and strength. In addition, the vehicle's silhouette is highlighted by chrome signature on the side.
The roof bars on the other hand put an emphasis of the height, whilst hinting at power and performance, before blending into the bodywork and flow of the profile of the rear wing. Next, thee front fascia of DS Wild Rubis includes a three-dimensional radiator grille with the DS emblem.
The grill flows into full-LED headlights that are created via three mobile lighting modules and surrounded by scrolling indicator lights at the base and a tuning fork-shaped light signature on the edge.
At the rear there is also visible a new arrangement of the lights that look like they appear to be part of the raised tailgate. Here, the glass of the rear lights is encased in chrome, whilst a subtle lighting effect on the DS emblem creates more depth. The rear tailgate is emphasized by the chrome finish, incorporating the twin exhaust pipes.
Some of the highlights here feature side chrome signature, the multitude of sculptured details in the metal, the front and rear light signatures and the finish of the materials, like the guilloche pattern on the hub caps. At last, the hues and materials utilized in the DS Wild Rubis exude sophisticated appearance, while the color of the ruby red bodywork changes with the intensity of light.
Source: Citroen