Citroen DS5
Citroen has introduced the new DS5, which will join the innovative and distinctive DS line-up. The vehicle is specially designed to express the full extent of Citroen's "Créative Technologie".
DS5 is based on the C-SportLounge concept. It features staggering style, awesome driving dynamics and perfect refinement with innovative engineering solutions.
Citroen DS5 is powered by "HYbrid4" diesel hybrid technology, which develops 200BHP and emits just 99 g/km of CO2. DS5 also offers four-wheel drive capability and emission-free electric power for the city.
The car features enormous air intake, a large chrome-finished grille and a new LED light. At the rear, there are two tail pipes built into the rear bumper and highlighted by a rear signature featuring six light guides. DS5 stands on 16" to 19" alloy wheels.
The interior boats ebony-coloured full-grain leather, contrasting subtly with silver-flecked overstitching. There are also decorative inserts in Markassa ebony and a highly reflective fascia, created by applying several layers of lacquer.|
DS5 will be a true rival to the other Gran Turismo Coupe cars!
Citroen DS5:
A sleek, compact body (4.52m long, 1.85m wide) and a driving position worthy of a Gran Turismo coupé.
A roomy boot (up to 465 litres VDA) reminiscent of a Sportwagon.
Five real seats, four doors and all the access and modularity of a hatchback.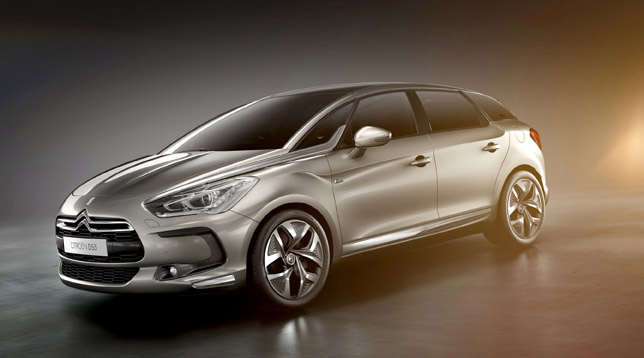 Source: Citroen DS5