DMC McLaren HS-12 Velocita SE In Emerald Red Couture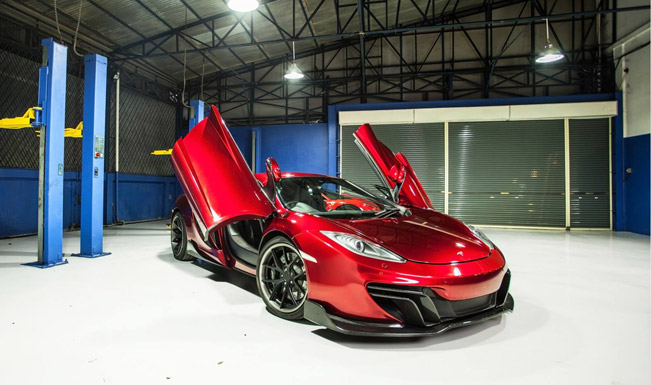 DMC McLaren HS-12 Velocita SE immediately catches the attention. First of all, because it stems from the McLaren family; and secondly, because of its unique Emerald Red Couture exterior. The car was equipped with a special package created by the luxury tuning specialists at DMC.
Refiner's components which create a styling and performance package, were made of the finest and most exclusive materials. Some examples are the light-weight carbon fiber on the body kit, the titanium on the exhaust system, and the Italian Leather utilized for the interior.
Furthermore, the aerodynamic engineering done on this project is visible through vehicle's original front bumper, the new front fascia with redesigned carbon fiber grill, and the new front lip splitter with enhanced down-pressure on the front axle.
The carbon fiber side flaps support road stability by supporting the pressure between the axles. On the other hand, the rear of the car includes a carbon fiber rear diffuser that has a revised tunnel set-up by adding 2 fins, and a brand new exhaust, made of pure Titanium, which also delivers a "monster" sound.
What is more, the car's weight has been reduced. The most fierce feature of the car however, is the rear wing, which delivers a sense of perfection. The latter includes a ground braking new surface design, which brakes the wind and continues to support on the aerodynamics.
DMC McLaren HS-12 Velocita SE runs on diamond forged alloy rims in sizes 9,5 x 21 at the front, and 12.5 x 21 at the rear, coupled with a 255/30 ZR21 and 355/25 ZR21 tyres for the front and rear respectively.
Source: DMC