Ettore Bugatti Legend Makes European Premiere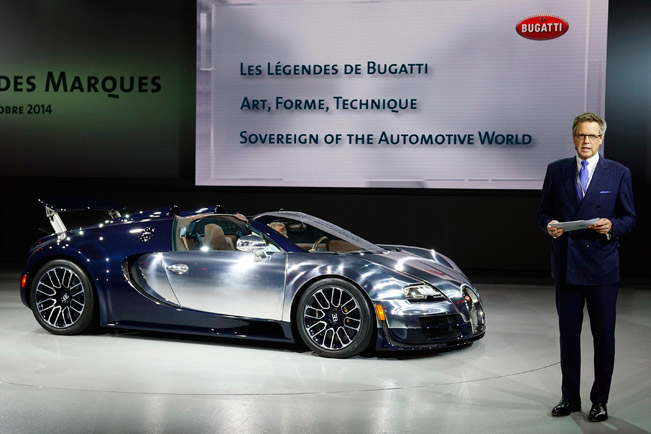 Ettore Bugatti, the last legend was revealed in August at the Pebble Beach Concours d'Elegance. Now, the unique model is making European premiere in Paris. This is the sixth and final model of its Edition "Les Légendes de Bugatti". It is dedicated to Ettore Bugatti, who was the founder and patron of the brand. What is more, at the event, the luxury company is also celebrating the successful completion of its Legends Edition.
From the six Legends, Bugatti will build only three vehicles per model. This makes 18 vehicles in total, and they have been sold out even before the final model was unveiled. With these editions, Bugatti honors important personalities and cars in its company history.
Last year, the super sports car manufacturer presented the Legends model "Jean-Pierre Wimille" in California, then "Jean Bugatti" was revealed at the IAA in Frankfurt, while the "Meo Costantini" was shown at the Dubai Motorshow. This year, the company revealed the "Rembrandt Bugatti" at the Automobile Salon in Geneva and "Black Bess" at Auto China in Peking.
Ettore Bugatti is based on the Bugatti Veyron 16.4 Grand Sport Vitesse, just like the other Legends. The sports car produces powerful 1200 horsepower (882 kW) from its 8-liter W16 engine, which in addition generates 1500 Nm (1106 lb.-ft.) of torque at 3000-5000 rpm. This car needs only 2.6 seconds to cover the sprint from 0 to 100 km/h (0-62 mph) on its way to a top speed of 408.84 km/h (254 mph). These numbers make it world's fastest production roadster ever built.
This is also one of the most expensive production super sports cars. Veyron is limited to 450 units in total, from which 300 are coupes and they are already sold out, and 150 roadsters. After all Veyrons have been built, Bugatti will begin a new chapter in its history of success.
Source: Bugatti