HG-Motorsport Volkswagen Golf GTI and Polo GTI Can Beat Porsche 911?

HG-Motorsport must be very proud, because they have just released not one but two dynamic cars. The "double act" is represented via two Volkswagens, Volkswagen Golf 7 GTI and Polo 6C GTI, which have gained significant boosts in terms of power and torque. Some styling enhancements also complement their sportier nature. There is no wonder why the chosen cars were the GTI variants of the Golf from the seventh generation and the Polo 6C, isn't it? So let's review what has happened to those two.
HG-Motorsport Volkswagen Golf GTI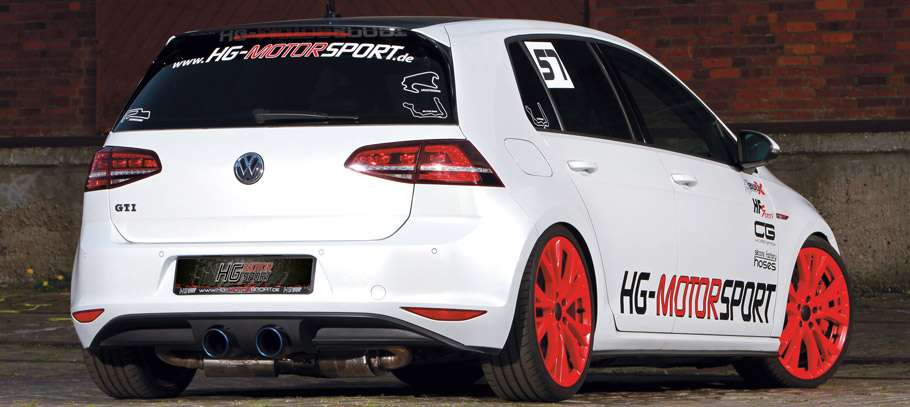 Defining the HG-Motorsport Volkswagen Golf 7 GTI is a sinister new appearance which hints that this car has more to show. Defined by exclusive graphics on the side doors, and red multi-spoke wheels, this car is capable of unbelievable heights. Just for a comparison, the standard motor under the hood produces 230 hp (170 kW) and 350 Nm (258 lb-ft). Which is not bad, compared to the GTI-less specifications.
However, the untamed character of the tuners had to be transferred onto this Golf, and therefore they created an upgrade, which boosts these numbers to a mind-blowing 375 (276 kW) and 527 Nm (389 lb-ft) of torque. Now we can even compare this car to sports beasts like the Porsche 911, can't we?
After the conversion, the seventh generation Golf can be compared to Porsche 911 with its 375 HP!
The question is how HG-Motorsport achieved an addition of 145 horses? There is a lot of work involved here. First, the production turbocharger has been substituted with larger one, just like the one found on the Golf R. Then, its potential was further boosted by a temperature lowering Double-DIN-intercooler. There is also an in-house made HF-Series carbon-fibre airbox, which aids the ram intake airflow.
The conversion does not finish here, because of the simple fact, that this addition of 145 hp, is not an easily achievable goal. The experts continued with the installation of Bull-X EWG 3.0-inch diameter downpipe, complemented by a Bull-X sound flap sports exhaust system. The latter actually features sports catalyst and R32-look carbon tailpipes.
SEE ALSO: HG-Motorsport Releases Better Version of Audi TTS
These tailpipes add to the visual appearance of the car aided by a new custom rear apron. At last, in order to match the new optimized intake and exhaust hardware, the ECU's remapped fuel and ignition as well as boost curves were also improved.
Better driving dynamics, ensuring that the additional power is well managed, were also achieved. Precisely, this is due to the installation of KW Variant 3 coil-over suspension with DCC. Furthermore, behind the multi-spoke red-coloured alloys we see new brakes up front. The uprated Golf GTI brake kit includes eight-pot fixed caliper front brakes with 356x32 mm floating discs.
Onto the next car.
HG-Motorsport Volkswagen Polo GTI

The second car here is the Polo 6C GTI. Its production turbocharged 1.8 litre engine, generates 192 hp (141 kW) and 250 Nm (185 lb-ft) of maximum torque. Although the car is smaller and less potent, it has received almost the same upgrades like its bigger brother.
Here, the conversion has achieved an addition of 68 horses. In details, the kit for the power-boost comprises of HF-Series air-intake system and intercooler as well as Bull X-3.0-inch exhaust downpipe and sound flap exhaust. The latter features metal sports catalyst and … can you also spot the carbon-tipped twin tailpipes? Nice looking, aren't they?
Here, the conversion has achieved an addition of 68 horses.
So, without ECU remapping, the car is capable of producing 212 hp (156 lb-ft) and 287 Nm (212 kW). But … after the specialists at SLS Tuning stepped in, the result is spectacular: 260 hp (191 lb-ft) with 350 Nm (258 kW) of torque. HG-Motorsport even confesses that the uprating had to be even more, but the seven-speed DSG dual-clutch transmission imposed torque limitations.
At last, the sportier character of the mini fellow is strengthened via H&R Deep by K-Custom Polo GTI coil-over suspension kit. And can you spot that by this lowering the tires literally disappear behind the wheel arches? This is due to the Mücke Carbon wide-look wheel arches that have been specifically developed for this Polo.
And just like its big brother, the car runs on custom multi-spoke red wheels and features exclusive graphic elements on its sides.
Both cars are now ready for action, and judging by the number 57 on the back door window, we can soon expect of this tuned Golf 7 GTI to make significant achievements in the motorsport field.
Source: HG-Motorsport