Hyundai Ix35 FCEV Uk Debut
EcoVelocity visitors can be among the first in the world to experience future travel in a hydrogen-powered car, with passenger rides available in the ix35 FCEV. The vehicle is Hyundai's third-generation FCEV and it demonstrates the company's work on cutting-edge alternative fuels.
Boasting the same convenience as today's vehicles powered by traditional internal combustion engines, the ix35 FCEV has a driving range of 360miles (580 Km), a maximum speed of 100 mph and zero-to-62mph time of 12.8 seconds. The fuel cell stack can operate at sub-zero temperatures as low as -25 degrees Celsius, and unlike a combustion-engined car, the ix35's only emissions are water vapour.
This vehicle moves Hyundai closer to the commercialisation of fuel cell electric vehicles, and the aim is to bring an FCEV to market in the next few years.
Earlier this year, the Hyundai Motor Group signed a memorandum of understanding with four Northern European countries to operate test fleets of FCEVs. Test drives have already been carried out in Korea and Copenhagen.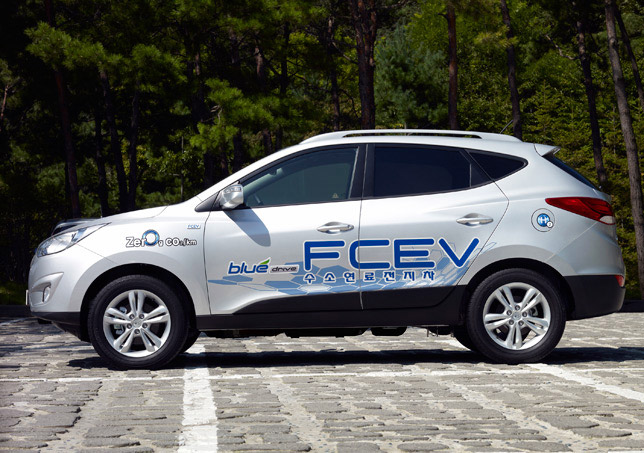 Hyundai UK's managing director, Tony Whitehorn, commented: "We are extremely excited to be showcasing the ix35 FCEV in the UK for the first time at EcoVelocity. Hyundai is a world leader in the development of hydrogen-powered technology and is constantly researching and developing modes of transportation that use alternative fuels at the Eco-technology research institute in Mabuk, Korea.
"The ultimate goal would be to see zero-emission vehicles on UK roads within the next few years; however, the market and local infrastructure will be the real determinant of this. In the interim, Hyundai is working hard to make internal combustion engines as efficient as possible."
Also featuring on the Hyundai stand will be the sub-100g/km CO2 i10 Blue and the recently launched i20 Blue. The i10 Blue is powered by a 1.0-litre Kappa three-cylinder petrol engine returning an impressive 67.3mpg combined. The i20 Blue is powered by a 1.4-litre CRDi four-cylinder engine with76.4mpg on a combined cycle. Due to their low emissions, both vehicles offer exemption from VED and the London Congestion Charge.
Visitors will also be able to see Hyundai's two newest models on the stand - the all-new i40 Tourer, due to go on-sale on September 8 and the Veloster coupe due to launch later this year.
EcoVelocity will run from September 8 -11th at Battersea Power Station and will feature the latest green models, including electric, hybrid and low CO2-emitting cars, as well as providing test drives on a specially-constructed circuit in the shadow of the famous power station.
Source: Hyundai