Infiniti LE Concept
The Infiniti LE Concept, which makes its world debut at the 2012 New York International Auto Show, is more than just the latest in the series of dramatically styled, technologically advanced concepts from Infiniti.
It features a sweeping aerodynamic body, an elegantly intelligent interior, inspired driving performance and advanced next-generation
A production version is expected to reach Infiniti showrooms in near-similar form within the next two years as Infiniti's first zero emission luxury sedan.
"In a future that holds an increasing consumption of natural resources, we will advance our sustainable mobility leadership and expand our EV market penetration with new electric vehicles such as the Infiniti LE Concept," commented Nissan President and CEO Carlos Ghosn.
"Infiniti is well positioned to deliver the objectives for a sustainable future, relying on our capable, hard-working and motivated team members around the world.  We are a challenger.", he added.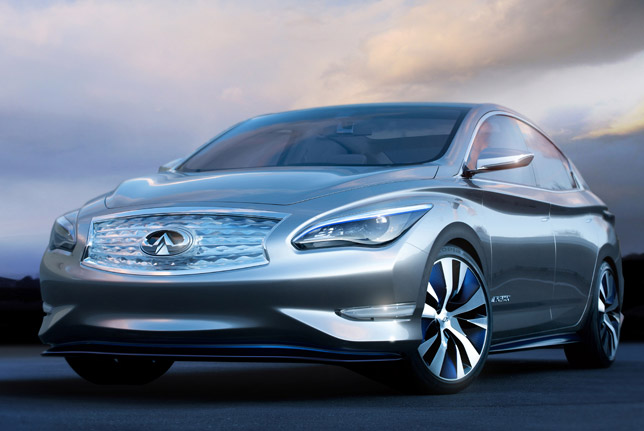 Among the key features and innovations of the Infiniti LE Concept are:
Luxury sedan style, combining signature Infiniti design cues with EV aerodynamic efficiency
Exceptional acceleration and re-acceleration, providing a new level of luxury driving experience
Leading-edge compact Lithium-ion battery technology
Smart hospitality, featuring a quiet, luxurious Infiniti interior and next-gen Infiniti Connection, Infiniti Personal Assistant and EV connected services
Innovative, intuitive home-based Wireless Charging System with Intelligent Park Assist
"As a 'production intent' concept, most of what you see in the LE Concept will become a reality, including its zero emission powertrain, advanced telematics, cutting-edge design, advanced connected services and premium appointments," said Infiniti Americas Vice President Ben Poore.
"Infiniti believes the future of luxury is sustainable luxury and we intend to continue taking a leadership role, building on the foundation set by our advanced Infiniti M Hybrid and high-mpg Infiniti JX luxury crossover.", Mr. Poore added.
The LE Concept has 240 lb-ft of torque instantly available immediately at all times.  The Infiniti LE Concept's battery system is a proven laminated 24 kWh lithium-ion (Li-ion) design with a ChaDeMo DC50kW quick charger.
Source: Infiniti