2012 Kahn Ferrari 458 Spider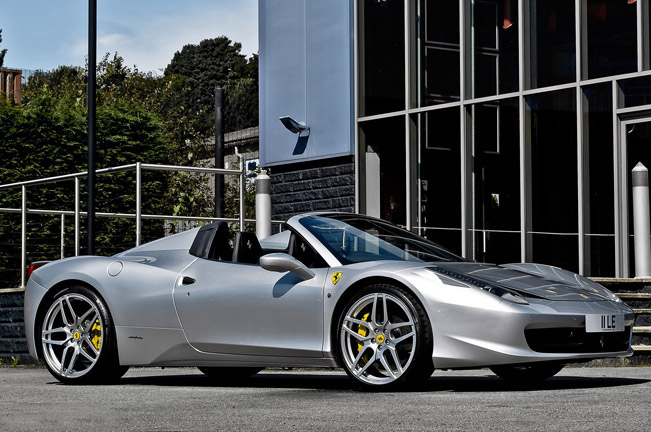 2012 Kahn Ferrari 458 Spider is the latest conversion of the talented Afzal Kahn. This exquisite supercar is made even more exciting thanks to the superior craftsmanship of the tuner.
The Ferrari 458 Spider is shrouded in voluptuous silver couture. The modification here includes front and rear sections, ceramic brakes, wing shields, upgraded F1 gearbox and yellow brake calipers, which ensures a mightier presence on the road.
Hence, this convertible is the perfect choice for those who want to be seen and heard. Ferrari has ditched the fabric roof in favour of a sublime folding hardtop. In particular the roof folds in 14 seconds, and more importantly is 25kg lighter than its equivalent.
It has two moving parts that slot neatly into a gap between the engine and the seats. Furthermore, it needs relatively compact space to house the folding hardtop. This however means that there's a small rear luggage bench.
The interior of course is more than outstanding. Inside is the "bespoke touch" of Kahn Design can be seen. In details, this particular vehicle comes with leather electric sports seats.
Next, the Ferrari rides on Kahn wheels, which sit perfectly on it. They convey the essence of the vehicle's identity. Moreover, they were created using state-of-the art manufacturing and materials forged technology. The 9×21 inch front and 12×22 inch Monza forged wheels are finished in silver color and fitting all original centre caps.
Source: A.Kahn Design