Living Full Time in an RV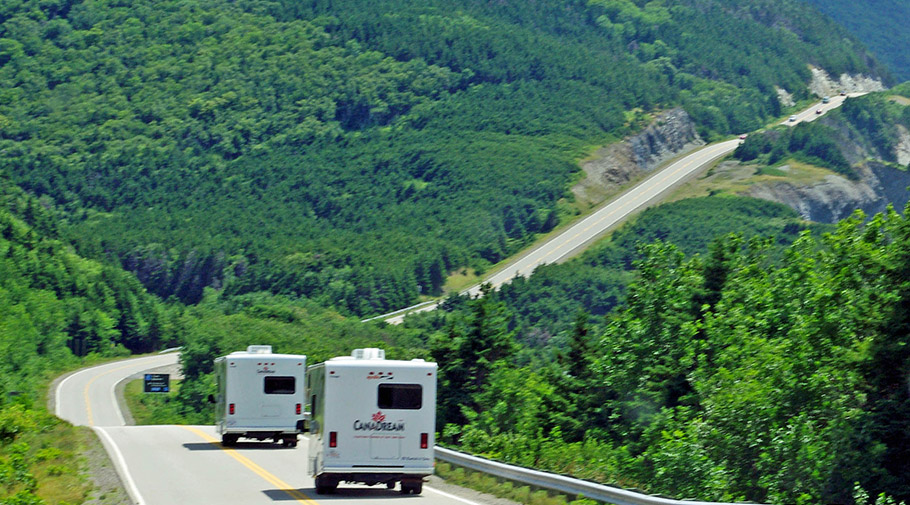 There are thousands of people who have sold their homes, got rid of their belongings, and hit the road in an RV -permanently. While it may not be for everyone, it's a lifestyle filled with travel and adventure. Have you ever thought about it? Here's an article that will delve into some of the details of what the full time RVing experience is all about.
Reasons to do it
Do you wonder why people choose full time RVing? We asked our friends at Lynch of Mukwonago, a local Chrysler, Dodge, Jeep, Ram dealer in Mukwonago, WI, and the RVers there gave us four good reasons.
More time. Living the simple life means you have more time to do the things you enjoy. You are free to spend your hours doing whatever makes you happy. No more long commutes, no more meetings, no more deadlines.
Less Stress. No house means no lawns to mow, no big house to clean or paint or maintain, no plumbing to fix. And a small living space means no "stuff" to worry about.
Live on less. If you are looking at a modest lifestyle, RVing may be for you. You can live on less by starting out with an affordable used RV, staying in reasonably priced campgrounds and living on a budget. One thing for sure, you won't buy a lot of stuff – there's no room for it.
See the country. This is one of the best reasons. Living in an RV, you can pull up stakes whenever you want and move on to the next interesting place. You can see all those places you've dreamed about or go back to the favorite spots of vacations past.
Who Does It?
People who travel for work. Many people have jobs that require travel. Construction workers, writers, artists, nurses, and others find that it is far more convenient to live in an RV than renting everywhere they go. Some even operate businesses from their RVs.
 Retired people are probably the largest segment of the RVing population. Newly retired couples are often active, healthy and ready for a lifestyle change. Even without large retirement funds, many find that they can afford to live in an RV.
 Many people who full time RV volunteer at National Parks and non-profits. Often, in return for a certain number of work hours, volunteers are provided with a free campsite or place to park. Other RVers volunteer their time with Habitat for Humanity, churches, schools, museums and other non-profit organizations.
The Process
SEE ALSO: Almost as a Batmobile: check Inden Design's Mercedes-AMG interpretation!
There are plenty of websites also for "full-timers." If you have decided it's a go, then consider these 10 items.
1)     Start planning.  Set a date for putting your house on the market. Decide if you will put your household belongings in storage or sell everything you can't take with you.
2)     Analyze finances. Are you going to live on retirement funds or will you work? Make a budget and financial plan.
3)     Start downsizing. Sell, give away or throw out whatever you no longer need. Start packing the RV only with things you'll need on the road.
4)     Arrange to keep in touch. Almost all RVers find that a laptop computer and a cell phone are necessary to life on the road. You can use the internet to pay bills, check your bank and credit card statements, look at your phone bills and keep in touch with friends and family. You can connect to wireless internet (WiFi) at many campgrounds, rest areas and businesses.
5)     Pets. If you will be traveling with pets, make made sure that they also have check-ups and have their shots updated. Proof of rabies vaccination and shot records should be placed in a take-along file as many campgrounds required this paperwork of pet owners. get a lot less tracked in little this way.
6)     Passports. Definitely get passports taken care of before going on the road as it will take a while for processing.
7)     Insurance. In addition to RV and car insurance, you may also want to insure the personal belongings in your motorhome. Companies specializing in camper and recreational vehicle insurance are most likely to understand your needs. Check with your health insurance provider and make sure that you will be able to use it anywhere in the country.
8)     Health and Medical. Get prescriptions filled and updated, have eyes checked and get copies of all prescriptions to take with you. If you have any chronic conditions or serious health concerns, carry copies of medical records with you.
9)     Mail. You will probably want a real address somewhere. There are mail services all around the country, but most full-timers choose one in Texas, Florida or South Dakota because those states make it fairly easy to establish residency and do not have a state income tax.
10)  Money Management. You don't have to change your current banks or financial institutions, but you do need to change your legal address with them. Some banks require that you do this in person, so get it taken care of before you go on the road. Set up on-line bill paying, money transfer between accounts and account viewing so that you can take care of your finances on line. Have Fun and Happy Trails!
For most people this will be a huge life-style change and it's common to be apprehensive about it. You may want to stay in a local campground for the first month or so just to iron things out. When you hit the road, you will meet many new comers like yourself as well as many experienced campers and RVers who are more than willing to share their knowledge.
Have Fun and Happy Trails!