LOMA and its Ferrari F12 Berlinetta: Beauty Comes in Simple Modifications

Ferrari F12 Berlinetta is one of the most wanted vehicles around the world. If anyone has every seen it on the streets or even had the opportunity of driving it, he or she stays deeply and forever touched. Famous for its beautiful exterior, aerodynamic proportions and powerful capabilities, the Berlinetta is a true masterpiece and legend among other cars.
This Ferrari is driven by the staggering 6.3 liter naturally aspirated V12 engine, which produces 740HP (544 kW) and 690Nm (509 lb-ft) of torque. And for this reason, the tuners at LOMA decided not to do anything about increasing the power output of the F12.
SEE ALSO: Lithfield Bring Even More Confidence for Ferrari 458
So, in other words, the beautiful supersports car has received minor updates that further enhance its appeal and bring forward its athletic character. What kind of changes has been made? The answer is very simple ones.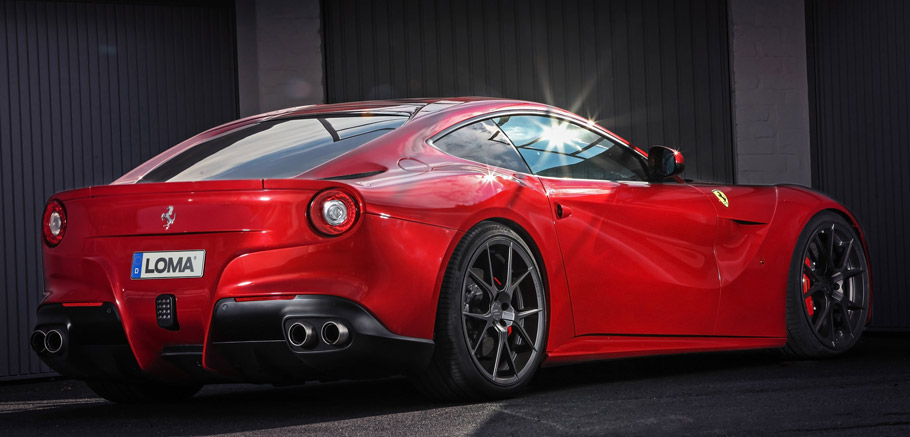 First, the chassis of the F12 Berlinetta has been strengthened by a Novitec chassis. In this way, LOMA experts have ensured that the car will be more than ready to drive on the new wheels they have given it.
Speaking of alloys, they are LOMA Stream Superlight Concave and come in dimensions of 9,5x21 inches at the front and 12x22 inches at the rear. They have been fitted with ContiSportContact 5P tires. The rubbers are sized 255/30ZR21on the front axle and 335/25ZR22 on the rear axle.
In other words, LOMA's work was simple, but very adequate and perfectly corresponds to Ferrari F12 Berlinetta's design philosophy for stylishness and class.
Source: LOMA via Miranda Media