MarkDesign Envisions Unique Ferrari Concept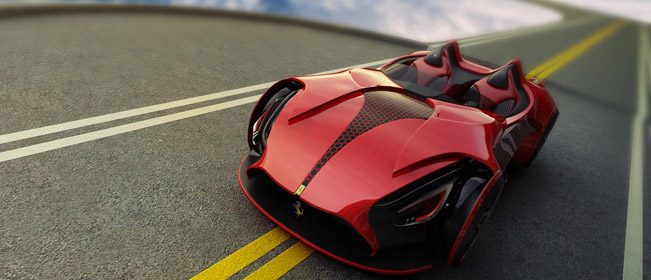 Ferrari Millenio is a design study of a futuristic electric vehicle. The unique machine's design was created by MarkDesign and discovered by us via Facebook.
To be more precise, the super-vehicle is envisioned to be powered by two engines. It is a two-seat supercar, with very lightweight construction. The structure of this Ferrari Concept comprises of several pieces proportionally designed and well combined in one.
As a matter of fact, this supersports car delivers the illusion of very complex assembling process. For instance, the front lights look like they are floating and that they are not attached. Here is also envisioned a silicon layer that can be additionally added as a protection.
The designer has definitely drawn inspiration the architecture field – partly by Ferrari's world park in Abu Dhabi, which is characterized by a sophisticated interplay between different surfaces and materials utilized.
MarkDesign has undoubtedly used an artistic approach which is based on different shapes, optical illusions and variety forms. And given the fact that they were combined in a balanced and proportioned way, they definitely end up creating a stunning visual presence.
Source: MarkDesign via Facebook