Meet the Spicy 2015 MINI John Cooper Works!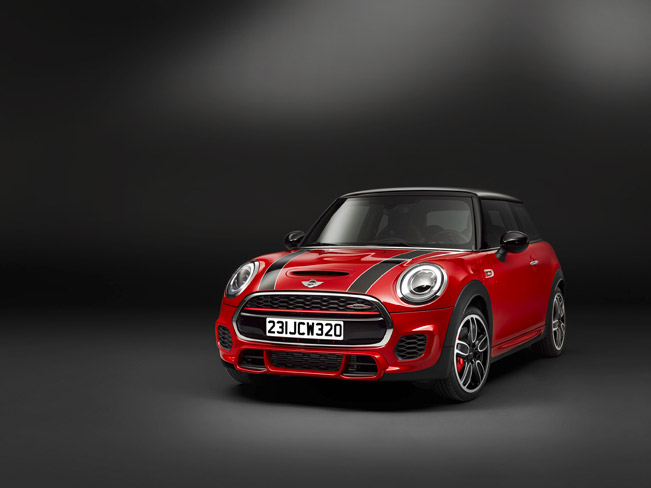 Meet the new 2015 MINI John Cooper Works Hardtop! The spicy little car is set to make a debut at the North American International Auto Show in Detroit. The event is starting on 12th of January and we can't wait to see all of the good stuff there. The launch of the new JCW celebrates MINI's passion for motorsport for 55 years. This is evident via the most powerful engine that drives the car, the refined suspension technology and the desisn features which not only improve the aerodynamics but also highlights the styling.
Precisely, 2015 John Cooper Works Hardtop is powered by the 2.0- liter 4-cylinder engine. This unit was developed based on the MINI TwinPower Turbo Technology. Speaking in numbers, it produces a maximum output of 228 hp (168 kW) and a maximum torque of 320 Nm (236 ft-lbs).
They allow the MINI to sprint from standstill to 60 mph in 5.9 seconds when equipped with the automatic transmission. In case the car is equipped with the manual one, this number jumps to 6.1 seconds. In general, this is an increase in sprint capability of 0.3 seconds or 5 percent as compared to the previous generation hardtop.
Moreover, the technology for the engine, suspension, body and interior have all been derived directly from motorsport racing. In this way they define the exclusive and performance-oriented character of the 2015 JCW. Just take a look at the pictures of the interior. We have rarely seen such exquisiteness and craftsmanship in a production car.
Of course, the car has been created in order to appeal to those, who appreciate authentic race feeling. The 228 hp engine, the sports exhaust system and sports suspension are complemented by the 17-inch John Cooper Works light alloy wheels.
In addition, a special sports brake system was developed. For this MINI collaborated with the specialists at Brembo. The John Cooper Works aerodynamics kit comprises of a model-specific rear spoiler and newly developed John Cooper Works sports seats, which include integrated headrest.
This set of characteristics reflects not only in the high-speed acceleration capacity but also in car's exceptional agility, a high degree of steering precision and precise handling on the road as well as excellent deceleration figures. Ever since John Cooper discovered the racing talent of the classic Mini in the 60's, his name became a symbol of MINI's success on the race track.
Source: MINI