MR Car Design Volkswagen Girlz Style-Eos
Do you really believe that tuning is a macho-thing only? Well, if you do you are wrong! And VW Girlz Style-Eos will prove you wrong! Nowadays some women are even more interested in making their car look prettier than ever! And we all have rights about it, haven't we.
What's so unique about this automobile? Well, first of all is to be mentioned that the Barracuda Wheels wheel rim producer had offered a dedicated "Girlz Style" light-metal wheel collection. It is so special that it captures the attention of all the ladies, especially those ones who are keen on the sparkling Swarovski stones, with which the rim wells are colourfully decorated. This "Sparkling VIP" wheel set with "glitter & glamour" tape of rose-coloured Swarovski stones integrated in the outer wheel rim edge on a VW Eos was carefully produced by MR Racing from Eschweiler near Aachen. They have installed this Barracuda Karizzma with the dedication "Girlz Style". And yes, every girl will fall in love with it – there's no second thought!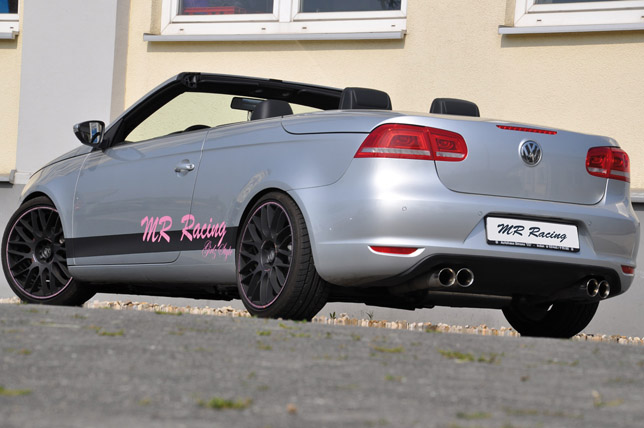 And moreover – this "Beauty" has the 8.5J x 19-inch wheel rims all covered with Dunlop Sport Maxx tyres, size 225/35R19. To bring more comfort, MR special racing springs provides a good lowering of about 50 mm. Even the brake callipers are also painted in pink as are some covers below the motor hood! This is where a "KW-unit"-power box is installed as well. It has the function to increase the output of the charged 1.4 litre TSI-four-cylinder motor in connection with an accumulation pressure optimised stainless steel exhaust system (70 mm as of Kat) with four 84 mm end pipes by approx. 28 HP (18 kW). Therefore the maximum torque now increases by amount 50 Newton meters (37 lb-ft) in parallel.
In this tuning the additional instrument console is installed in the middle console (also made from KW-System), displaying charge pressure and oil temperature. It has a "PushToPass" button for spontaneous interim sprints, as well as a "Sports" button for more aggressive gas pedal reconciliation. And what the ladies will love for sure is the gearshift lever and the pedal set of a VW Golf 6 GTI. Yes, MR Racing, VW Eos made this unique and classy cabriolet a dream-come-true for a lot of women around the world!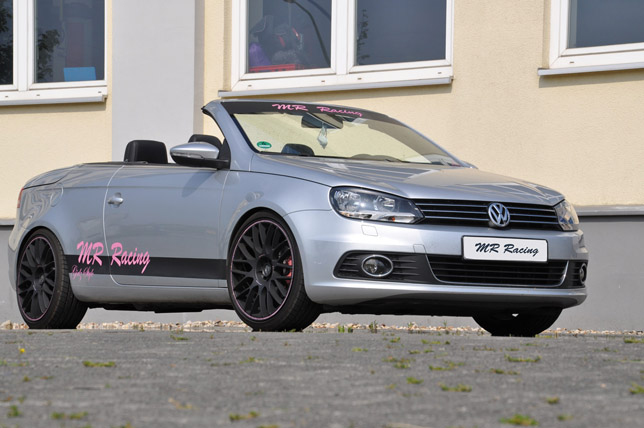 Source: MR Car Design