Peugeot 2008 DKR - Technical Specs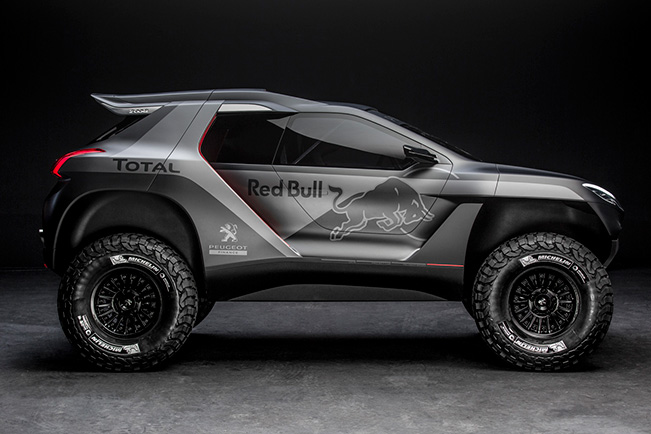 Peugeot 2008 DKR is going to compete in the world's most tough motorsport challenge – 2015 Dakar Rally. A lot of obstacles await for the 2008 DKR – dunes, mountains, dry river beds, canyons, furnace-like temperatures, salt deserts, rough terrain, sand and many more. To tackle this tremendous challenge, Team Peugeot-Total has followed a very daring technical path.
"Much like we did at the Le Mans 24 Hours by electing to run a closed-cockpit car, we decided to adopt an innovative concept," explained Peugeot Sport Director Bruno Famin.
"When it comes to cross-country rallying, the biggest question is whether to run with four-wheel-drive or just two. After a detailed study of the question, we decided to go for two-wheel drive transmission which presents a number of interesting benefits.", he added.
This bold decision will enable the team to try to become the first to win the Dakar with two-wheel drive and diesel engine.
Peugeot 2008 DKR is powered by a V6 twin-turbo diesel mid-rear engine – 340HP (250 kW).
"Fitting all of the vital assemblies into such a small space gave us quite a headache!", admitted Technical project manager Jean-Christophe Pallier.
"Small cars tend to perform more comfortably over twisty WRC-type stages, so this arrangement increases the potential of two-wheel drive cars in situations where the 4x4s tend to have the edge.", he added.
Beyond the conviction – expressed by Red Bull for the last two years – that two-wheel-drive vehicles possess attractive qualities that shine through even across the most inhospitable of terrains.
Technical data - 2008 DKR:
ENGINE
Type Cubic capacity Number of valves Position Number of cylinders Maximum power Torque Maximum revs Top speed Lubricant
V6 bi-turbo diesel 2,993cc 24 Mid-rear V6 ('vee' angle = 60°) 340hp 800 Nm 5,000rpm 200kph TOTAL QUARTZ 10 W 50
TRANSMISSION
Type Gearbox Lubricant
Two-wheel drive Longitudinally mounted six-speed manual sequential gearbox TOTAL 755 HPX 80 W 140
CHASSIS
Type Bodywork
Tubular steel Carbon
SUSPENSION / BRAKES / STEERING
Suspension Springs Dampers Travel Anti-roll bars Steering and brakes Discs

Rims Tyres

Double wishbones Coil springs (two per wheel) Adjustable (two per wheel) 460mm Front and rear Hydraulic power steering Hydraulic dual circuit, one-piece light alloy four-piston callipers Front and rear vented discs front and rear Front discs (diameter): 355mm Rear discs (diameter): 355mm Aluminium two-piece wheels (17 x 8.5) Michelin 37/12,5x17
DIMENSIONS
Length Width Height Front overhang Rear overhang Wheelbase Fuel tank capacity
4,099mm 2,033mm 1,912mm 641mm 658mm 2,800mm 400 litres
Source: Peugeot