REIL Performance Porsche GT3
REIL Performance - a product of MR CAR DESIGN in Erftstadt – has changed the performance specification of Porsche 997 GT3 via a number of upgrades.
The 997 GT3 is powered by a 3.6 liter flat-six with 420PS (309 kW), which is enough to catapult the small car to 60 mph in 4.1 seconds. The top speed is 311 km/h (193 mph). Porsche's official test-driver Walter Rohrl lapped the Nurburgring Nordschleife in 7 minutes 42 seconds with the 997 GT3.
REIL has added chip-tuning and a specially designed Akrapovic exhaust system named GT3. The overall power is bumped to 455PS (335 kW).
The GT3 also received HLS lift kit which helps to prevent all obstacles. It should be mentioned on this occasion that the ARTEVO company, which is situated in vicinity to minster, has become a REIL Performance base for the minster land.
And to clarify it once more: the company MR CAR DESIGN in Erftstadt and REIL Performance have virtually acquired an "offshoot" at the same place in the best sense which principal activity is processing and assembling  high-quality products.
The main aim of the company is manufacturing relevant cars, as it is easy to see by the example of the red wolf in sheep's fur shown here.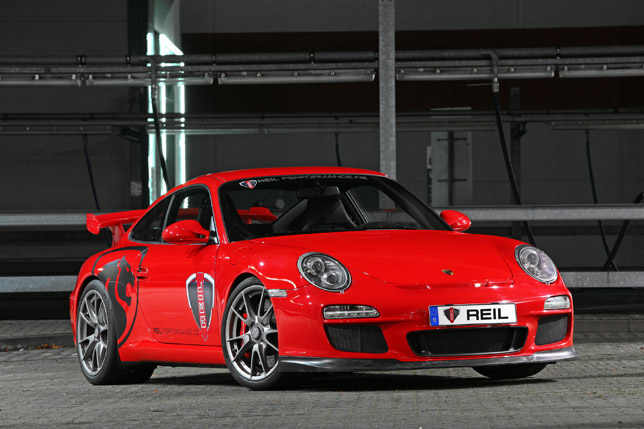 Source: REIL Performance