Rinspeed Is To Unveil Ʃtos Concept at Geneva Motor Show

Incredible technologies and one-of-a-kind craftsmanship are the main features that contribute to the distinctive appearance of "Ʃtos" Concept car. One more time the Swiss manufacturer went for the approach of "self-driving car", but now the accent is not on the "self-drive" itself, but rather on the next-gen gadgets and systems which are expected to reshape the face of vehicles with own character.
Exterior styling
The elegant, yet aggressive Ʃtos is not only a highly versatile car, but also a furious racer. And how does it express it? With the demonstration of deep black 20-inch Borbet GTX aluminum rims, widened body and adding numerous lightweight aluminum and glass materials that not only improve the performance capabilities, but also enhance the aggressive character of the vehicle. And along with the neatly designed trim strips, the vehicle also demonstrates some titanium elements.
SEE ALSO: Rinspeed Σtos Concept Revealed. Debuts at CES and Geneva
Some of the most notable exterior features are of course the beautiful LED headlights, placed just above the massive jaw. The sides are somehow simple-looking, but let this fact not disappoint  you: the engineer team knows exactly how to maintain both beauty and power at the same time. The rear also looks massive and it looks like designers went for that "beauty through simplicity" approach that happened to be the right one. Sweet.
Interior styling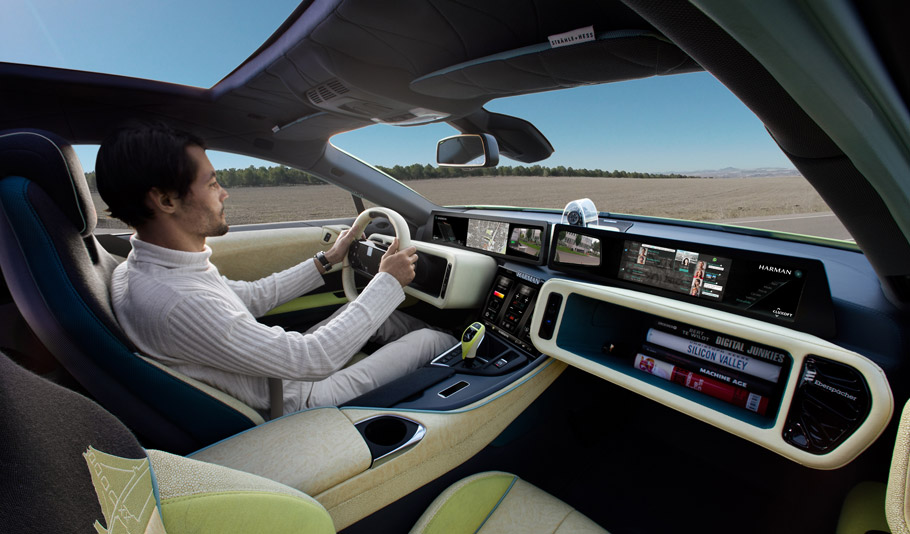 First of all, we should mention that the cabin benefits from the innovative Harman Connected Car technologies that offer not only personal assistant features, but also infotainment, connectivity and safety features. Something more: with every mile  Ʃtos tells its recommendations, needs and advices, when it comes to performance and safe drive. Sweet, right?
In terms of comfort, the interior offers comfortable seats, covered in exclusive leather and synthetic materials, relaxing atmosphere and useful and user-friendly technologies. Furthermore, polymer specialist Rehau created special lightweight dashboard system and also makes clever usage of the luggage shelf with detachable umbrella holder.
Additional equipment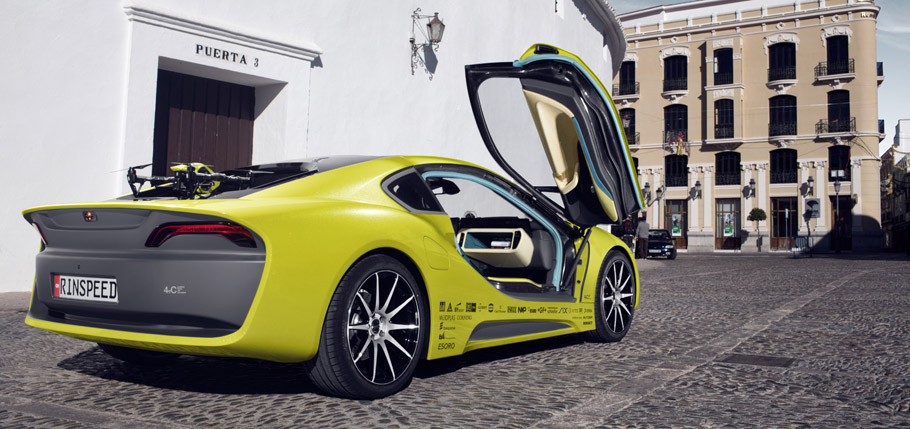 In terms of safety, Ʃtos comes with intelligent connectivity technologies, including automatic payment for parking, wireless cell phone charging, smart access solutions and keyless remotes for unlocking, starting and customizing.
Further features, drivetrain system details and capabilities will be soon announced, so stick with us for further information!
Rinspeed Ʃtos will make its european debut at the Geneva Motor Show at Rinspeed booth 6240.
Source: Rinspeed