Senner Audi S5 Sportback
Senner tuning has announced their tuning program for Audi S5 Sportback. It includes a set of new wheels, lowered suspension, carbon fiber interior elements and some performance modifications.
First, the tuning specialists fitted the stylish S5 Sportback with huge SENNER-Elegant TS-7 wheels in sizes 9.5J x 20" up front and 11J x 20" at the rear fitted with Conti Sport Contact 5P tires in dimensions 255/30 R20 and 295/25 R20, respectively.
The car is finished in black mettalic paint with matt black gitter with bright borders, as well as moldings and racks for windows, including a fog-light frame in the same "color".
The suspension received adjustable screw thread B16 PSS10 from Bilstein with the possibility of height, pull rate and pressure adjustment in "Senner-tuning", which is responsible for the low suspension: about 40 mm on the front axle and 35 mm on the rear axle.
The engine is boosted to whopping 445PS (327 kW) and 530Nm (393 lb-ft) of torque, instead of the factory's 333PS (245 kW) and 440Nm. The results are thanks to a complete Performance Kit air filter, sport exhaust system including an additional muffler and X-Pipe of stainless steel with the enlarged pipe diameter to 63.5 mm and 4 exhaust pipes of 90×70 mm, and of course an ECU re-map.
Together with the carbon-fiber interior the tachometer of this material, as well as the Power Converter - the tuning for the electric foot-throttle can be ordered.
The total cost of the upgrades is 15 000 EURO.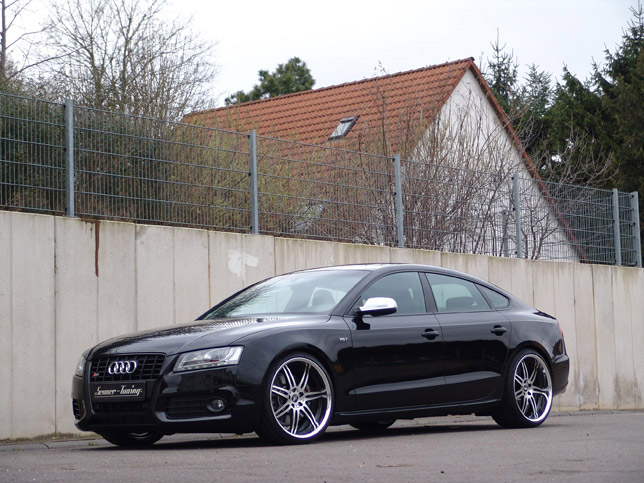 Source: Senner