Skoda VisionS Concept Revealed in Details. To Feature Plug-in Hybrid Powertrain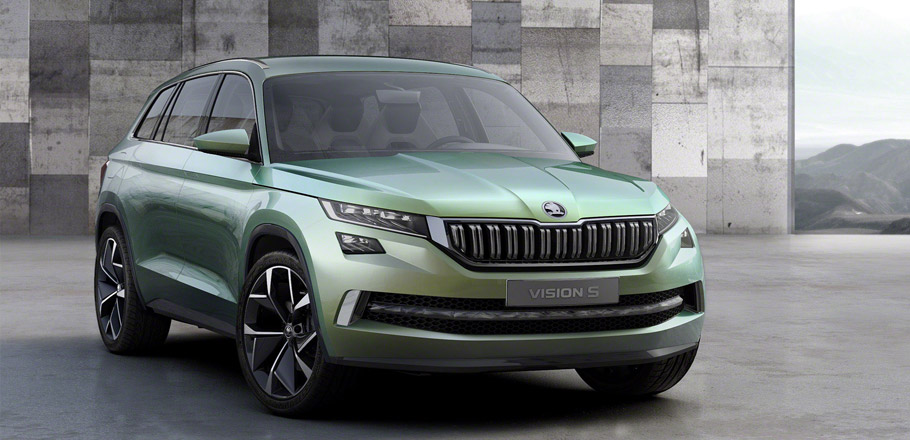 Skoda VisionS Concept, which we showed you yesterday appearing in a 'teaser' video, has been revealed today with two images, showing its exterior at the front and the rear. With the VisionS the Czech car manufacturer will offer a glimpse into how company's future SUV design language might look. Being on display at the Geneva Motor Show and making a debut there, the show car also presents its most important future technologies. Furthermore, the visitors of the event will also see the Skoda Octavia vRS 4×4, the Octavia G-TEC with DSG transmission and the ScoutLine version of the Fabia Estate.
Skoda VisionS Concept: The Details
VisionS has a design, which is clearly influenced by Czech Cubism and the tradition of Bohemian crystal art and this is due to its precise lines that are sharp and clean-cut. These lines perfectly accentuate the Island-Green exterior color.
SEE ALSO: Skoda VisionS Concept is Inspired by Real Crystal [w/video] 
The concept car rides on a 2.79-meter wheelbase, and has a length of 4.70 meters, 1.91 meters width and 1.68 meters height. It is also based on Volkswagen's Modular Transverse Matrix (MQB) and is the first Skoda vehicle to be equipped with six seats across three rows.
The brand has also announced that the SUV will be powered by a plug-in hybrid powertrain, with a total power of 225 hp (165 kW). Therefore acceleration happens from 0 to 100 km/h in just 7.4 seconds. The top speed is limited at 200 km/h.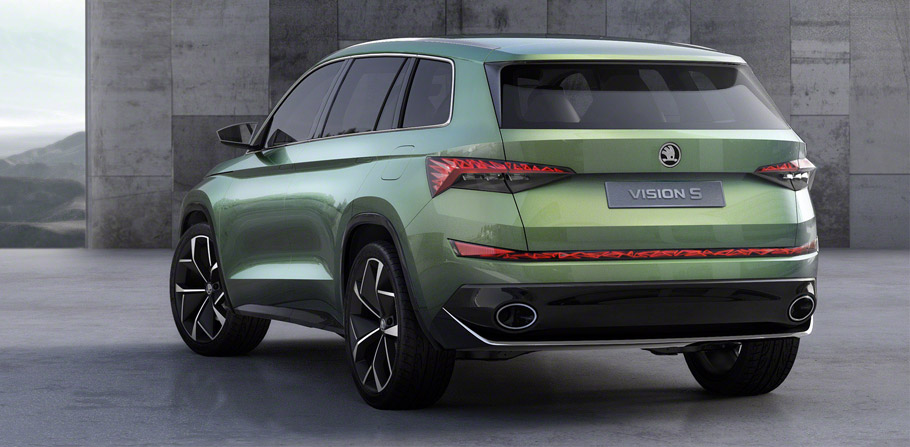 Having this kind of drivetrain means low fuel consumption, which in this case is 1.9 litres of petrol for 100 km. the emissions have been rated at 45 grams CO2 per kilometer. Furthermore, the VisionS can drive up to 50 km on electric alone, and will travel up to 1000 km with both systems.
Speaking of the powertrain, it comprises of an internal combustion engine, which is a 1.4 TSI with 156 hp (115 kW) and 250 Nm (185 lb-ft) of torque, and an e-motor that provides 40 kW of 40 kW continuous power and 220 Nm peak torque. Everything is integrated within a six-speed DSG that sends the power to the front wheels. There is a second electric motor, which delivers up to 85 kW and 270 Nm of torque drives the rear axle.
Here's the deal: both motors work independently from each other and this means that the show car features a smart four-wheel drive, which requires no mechanical coupling. In addition, Skoda VisionS driver can choose between several modes of operation – from purely electric drive to charge modes. The e-motor is connected to a lithium-ion battery with a 12.4kWh capacity, which is mounted in front of the rear axle.
At last, we must say that the interior of the SUV concept is generous and includes three rows of seats, for optimal comfort of optimal number of passengers.
[nggallery id=12374]
Source: Skoda