SNORAS Spyker Squadron finishes fifth in Le Mans 24 Hours
Spyker's factory race team, SNORAS Spyker Squadron, finished in fifth place in the 77th edition of the 24 Hours of Le Mans. The Dutch team started from an eleventh position. The Spyker C8 Laviolette GT2R was driven by the Le Mans Series' drivers Jarek Janis (CZE) Tom Coronel (NLD) and last year's LMP2 class winner Jeroen Bleekemolen (NLD).
In the race, the team chose the strategy to drive at a constant speed, without pushing the car to its limits. The drivers were able to quickly move the car to the eighth position. After midnight, continuing their steady pace, they moved even further up to the sixth place. After one of the Ferrari's in front of the Spyker had to return to the pitbox for repairs, Spyker's driver Jarek Janis was able to claim the fifth place and finished the race in this position (see also http://vimeo.com/spykersquadron).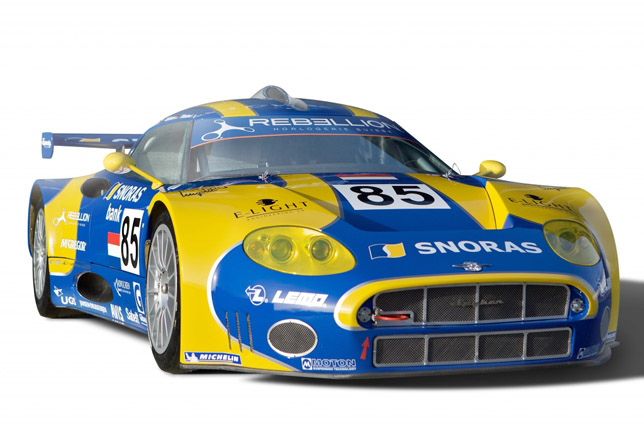 Victor Muller, CEO of Spyker, said: "As from the day we launched the company in October 2000, we have consistently used endurance racing as one of our marketing pillars. Since 2002, we have raced at Le Mans every year, except for 2004, and used the event as a powerful marketing tool. We strongly feel that racing breeds our brand and that our commercial effort to sale our product is greatly helped by the exposure generated by our GT2 cars at Le Mans. Until now, these efforts did not bear the desired fruit: a successful finish in the most challenging 24-hour race in the world. Today, that all changed. Our team Spyker Squadron came in fifth in the GT2 class, preceded only by four Ferrari's F430 and left six Ferrari's, five Porsches and one Aston Martin behind. For a manufacturer such as Spyker, this is an unprecedented achievement for which I would like to thank Peter van Erp as the team's dedicated chief as well as our sponsors, in particular our title sponsor Snoras Bank. We are convinced that this first successful finish at Le Mans will be followed by many more such finishes in the years to come. We remain dedicated to GT racing as part of our overall marketing strategy."