Gloss Davinci Red Redefines Simplicity for this Ferrari 458 Italia

It seems that Gloss Davinci Red is the favorite color of the Canadian tuners at SR Auto Group. Or at least their last two projects show this tendency. This time they have released a special edition of a Ferrari 458 Italia, which has been fitted with exclusive PUR 8IGHT wheels.
And did you know that the goal of the PUR 8IGHT when it was released years ago was to bulk up and shed away the unnecessary weight and to be as efficient as possible? Well, the goal was achieved and it was possible to translate it to the performance super cars like this Ferrari Italia.
SEE ALSO: It's Not Bunny Season but it is Definitely Time for a Custom Lexus RCF Rocket Bunny
As we can see from the released images, the car is dressed in black exterior paint finish and features these amazingly shiny red wheels with simple five-spoke design. Their color is called Gloss Davinci Red. The alloys are sized 21x9 at the front and 22x12 at the rear. We also see that they are coupled with low profile rubbers.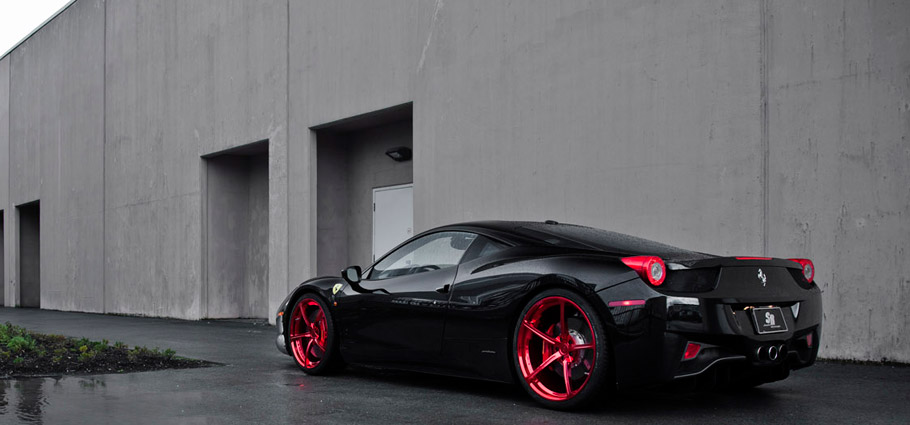 Furthermore, the vibrant 'pop of color' adds a level of contrast to the simplistic design, but also makes more space for the brakes by emphasizing their size and complementing their color. In other words, these wheels seem as the perfect addition to the non-intrusive design of the 458 Italia.
And speaking of which, Ferrari 458 Italia is powered by the naturally-aspirated, direct-injection 4.5 litre V8 engine, which produces 578 horsepower (425 kW) at 540 Nm (398 lb-ft) of torque. It reaches a maximum speed of 320 km/h (198 mph).
The acceleration time which this Ferrari has for the sprint from 0 to 100 km/h is under 3.4 seconds. The power of the 458 Spider is transferred to the road by Ferrari's class-leading dual-clutch F1 paddle-shift transmission through the sophisticated E-Diff. It is definitely a car to ride. Enjoy the pics!
Source: SR Auto Group