The Caddy Topos sail design concept – a Caddy with a boat deck!
Among the display of leisure vehicles and campers on the Volkswagen Commercial Vehicles stand at Europe's largest recreational vehicle show that starts in Düsseldorf, Germany this weekend will be an interesting Caddy Topos Sail design concept which takes its nautical theme to the extreme of having a wooden boat deck on its roof.
The Caddy Topos Sail design concept, based on the smallest model in the Volkswagen Commercial Vehicle van range, uses design cues from classic yachts and has its multi-functional roof covered with wooden decking surrounded by aluminium roof rails.
The wooden sun deck on the roof is accessed via four matching wooden and aluminium steps in the Caddy's tailgate, and to complete the design theme there are wooden inserts along the side of the vehicle and in the rear bumper.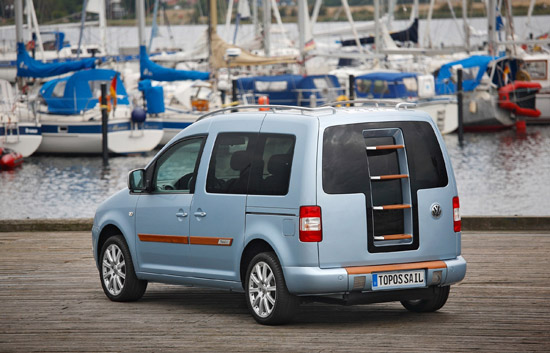 Other highlights of the Volkswagen stand demonstrate its strong heritage in leisure vehicles with a celebration of 20 years of the California camper.
Volkswagen campers became popular almost as soon as the Transporter van was introduced in the 1950s, and the California model was introduced in 1988 when the third generation of the Volkswagen Transporter was in production.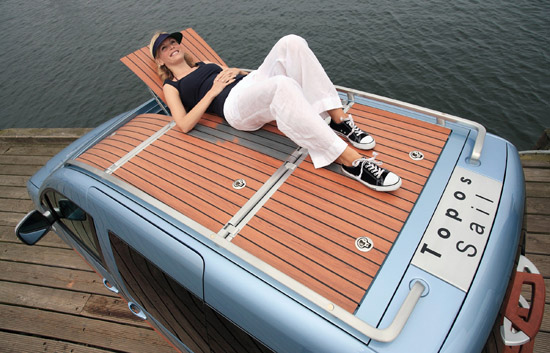 With California conversions of the subsequent fourth generation of Transporter van and today's latest fifth generation model, more than 80,000 have been sold, which must make it one of the most successful campers ever.
Today's California was introduced in 2006 and is unique as it is now made by Volkswagen, who must be the only vehicle manufacturer to produce its own camper.  It is built to the same high quality standards as the rest of the range, and sold with a full three year warranty.