The Wraith Comes With Distinctive Looks From the Summer Studio

Rolls-Royce Wraith, created in the Summer Studio in Porto Cervo, Sardinia just made its debut. As you know, The Wraith model is the hottest and most powerful Rolls-Royce ever produced. The two-door luxury beautyone more time promises to deliver extraordinary power and style.
The Wraith and Its Presence
With its unmistakable style, the vehicle is equipped with a twin-turbo V12 engine, that works in full harmony with an eight-speed automatic ZF transmission. The unit is capable of generating 624 bhp (465kW) and 800 Nm (590 lb-ft) of torque from 1500 rpm. This delivers an instant acceleration from 0 to 100 km/h for just 4.4 seconds.

As a matter of fact, Wraith model was inspired by grand Italian and British fastback designs from the 1930s, but it of course makes a step further. Every inch of this Rolls-Royce is refined and luxurious. Therefore it delivers the comfort one would expect from the pinnacle brand.
Moreover, the new Rolls-Royce Wraith is equipped with wide range of exclusive technologies. For instance, the Satellite Aided Transmission processes GPS data to predict the driver's next move. It operates by automatically choosing the correct gear for the road ahead. There is also included a one-touch call button akin to an on-board valet. It allows navigation, telephone and multimedia to be controlled via voice.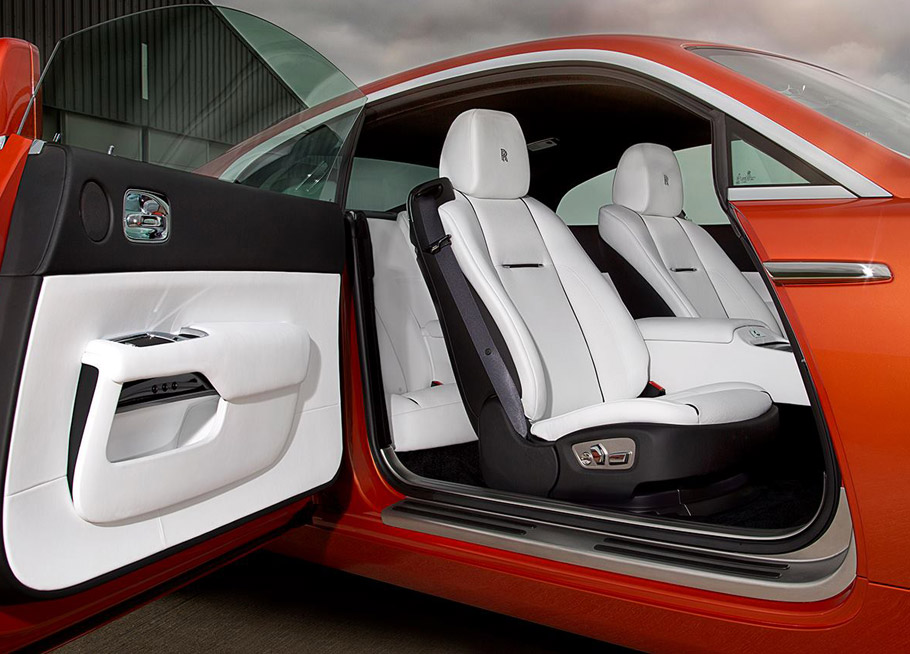 And now the latest masterpiece, that comes from the Summer Studio features an stylish and striking exterior design, distinctive orange metallic finish, that blends perfectly with the surroundings at the Summer Studio in Porto Cervo.
Style, beauty and power. The three words, that can describe every single Rolls-Royce model.
Source: Rolls-Royce