Vauxhall Insignia - The Buffed And The Beautiful!
Vauxhall Insignia has unveiled the first ever drive-on grille and light shine service for cars. A quirky twist on the famous New York shoeshine chair, the 'Insignia Shine Service' has been built to highlight the importance of maintaining clean front and rear lights on cars, especially as the clocks go back this weekend and winter is drawing in.
The Highway Code says that drivers must keep all lights on their cars clean and clear at all times, but new research from Vauxhall Insignia shows Brits aren't doing enough when it comes to ensuring their motors maintain maximum visibility. On average we clean the lights on our cars just once every five months, and we're almost just as bad when it comes to checking whether our lights are actually working – we only do this once every four months.
To make sure drivers have as good a view of the roads as possible this winter, Vauxhall Insignia advises motorists to inspect and clean their lights regularly – especially before and after long journeys when the weather has been bad and they are likely to be dirty.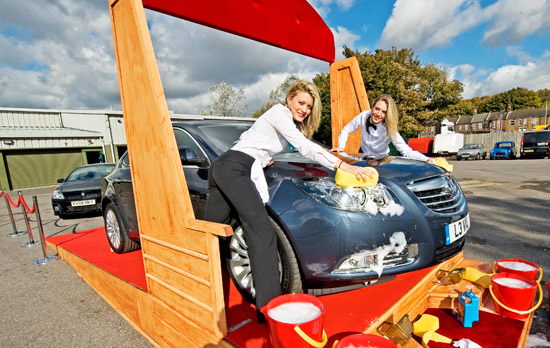 Visitors to the new Bermondsey Square development just off Tower Bridge Road in central London today will be able to get their own lights and grilles shined at the service – which opens between 8:00am and 12:00pm.
Simon Ewart, spokesperson for Insignia, comments, "The grille and light shine service brings a little bit of 1950's New York magic to London, but there's a serious message behind it – the issue of safety and keeping car headlights clean during the winter period".
Pictured on the Insignia Shine Service is the new Vauxhall Insignia itself. The car features innovative 'Adaptive Forward Lighting Plus' technology, which includes a clever, automatic headlamp beam adjustment system for different types of roads. The car also boasts a bold new grille and is the first Vauxhall to feature the new-look Griffin badge.