Volkswagen Golf R 400 Concept [video]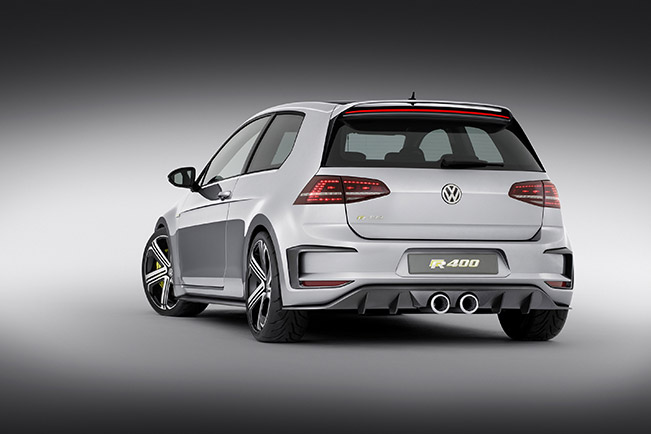 Volkswagen Golf R 400 Concept boasts a sensational soundtrack. It has been caught on video – starting and revving its powerful four-cylinder engine. The German manufacturer has exhibited the radical Golf R 400 Concept at the 2014 Beijing Motor Show.
The ultra-hot hatchback is powered by a 2.0 liter four-cylinder turbocharged engine with 400HP (294 kW) and 450Nm (332 lb-ft) of torque. The engine is connected to a 6-speed DSG transmission sending the power to 4MOTION all-wheel drive system. 0-100 km/h in 3.9 seconds and a top speed of 280 km/h (174 mph). The curb weight of the vehicle is just 1,420 kg (3,130 lbs).
There are also rumors about a production version with even more power as Heinz-Jakob Neusser said at the Vienna engine symposium in Austria – "The new Golf R 400 could make more than 400 horsepower".
The uprated engine comes with a number of modifications including a newly developed turbocharger with a higher maximum charge pressure and reinforced crankcase. A water-cooled exhaust gas feed to the turbocharger integrated in the cylinder head helps to reduce full-load fuel consumption, while variable valve control with dual camshaft adjustment enhances the economy and performance.