Volkswagen Golf24 is ready to hit the Nurburgring
The fastest Volkswagen Golf will compete tomorrow at the Nurburgring-Nordschleife in the legendary 24-hour race. The spectacular Golf24 has been prepared specially to take place at the race - June 23 to June 26, 2011. Fitting the 35th anniversary of the Golf GTI, Volkswagen Motorsport has developed a thorough-bred racing version of the world's highest-volume production car.
It is powered by a 2.5 liter five-cylinder turbocharged  engine with 440PS (324 kW) and 540Nm of torque. It features four-wheel drive, a sequential 6-speed gearbox with paddle shifters and, last but not least, an impressive body shell.
Check out Volkswagen driver line-up, below!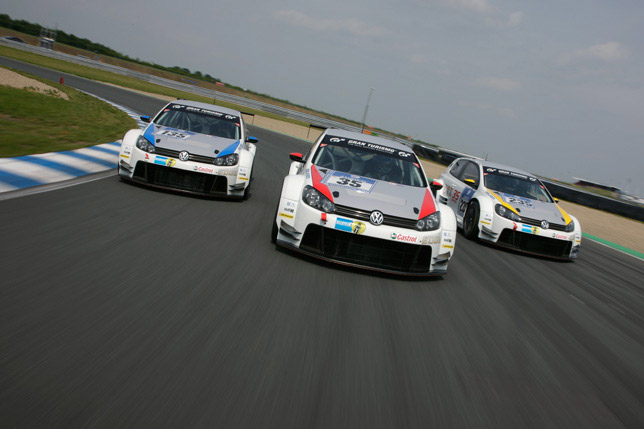 The Volkswagen driver line-up for the 2011 Nurburgring 24-hour race:
#35 – Golf24 – white / red
Peter Terting (D) / Nicki Thiim (DK) / Franck Mailleux (F) / René Rast (D)
#135 – Golf24 – white / blue Thomas Mutsch (D) / Fredrik Ekblom (S) / Patrick Simon (D) / Edoardo Mortara (I)
#235 – Golf24 – white / yellow Johnny Herbert (GB) / Patrick Bernhardt(D) / Mark Blundell (GB) / René Rast (D)
#116 – Scirocco GT24-CNG – blue / silver Dr Ulrich Hackenberg (D) / Vanina Ickx (B) / Peter Wyss (CH) / Bernd Ostmann (D)
#117 – Scirocco GT24-CNG – blue / orange Nasser Al-Attiyah (Q) / Carlos Sainz (E) / Giniel de Villiers (ZA) / Klaus Niedzwiedz (D)
Source: Volkswagen