Volkswagen GTI Roadster Concept at 2014 Worthersee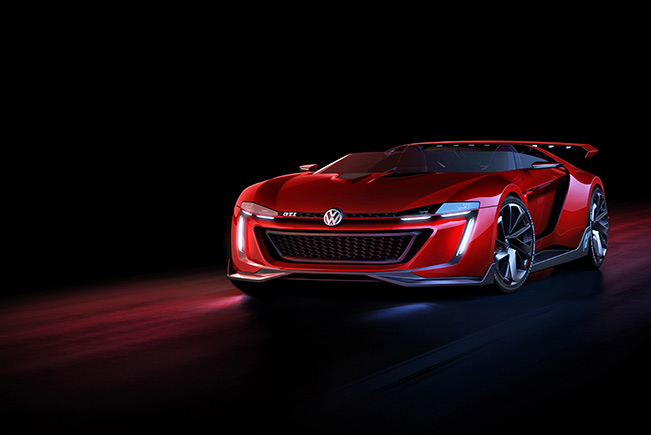 Worthersee GTI meeting in Austria will be the place where VW reveals the GTI Roadster concept.
The concept was first presented virtually in the Sony PlayStation 3 game Gran Tourismo 6. It is a product of the cooperation of three VW designers who won the in-house competition designing a vehicle to celebrate the fifteenth anniversary of the GT-game.
The virtual car was first shown on 26 May and a few days later VW decided to present it at the annual GTI-fans gathering (18-31 May).
The design is more extreme than the normal GTI's. The Roadster version has 2494 mm wheelbase (137 mm shorter than the regular GTI), 1090 mm height and 1894 mm width. The overall length is 4158 mm. What a jaw-dropping proportions
GTI Roadster is powered by 3.0-litre V6 bi-turbo engine which produces more than 500 h.p. and 560 Nm of torque @ 4000-6000 rpm. Thank to the twin-turbo technology some 500 Nm are available at just 2000 rpm. This engine power is transferred to the wheels via 7-speed DSG gearbox and 4MOTION all-wheel drive system. This 1420 kilos of car runs from zero to a hundred km/h for just 3.6 seconds and on full throttle it can do more than 300 km/h.
For a better handling, more stability and good vision it has 20x8,5j wheels with 235/34 tyres at the front and 20x9,5J with 275/30 at the back. Behind these rims are hidden ceramic brakes for proper decelerating force.
For all the Gran Tourismo fans the concept is colored in Gran Tourismo Red. The interior includes black and anthracite sections with the contrasted GTI red stitching.
We hope that VW's plans will let us see the production version on the streets, not only in the virtual world of GT6.
Source: Volkswagen