Cleaner, Greener Diesel Engines from Volvo on MY 2013 Lineup
Volvo are raising (or more like lowering) the bar on CO2 emissions with their model year 2013 diesel fleet. More specifically, the Volvo S60, V60, V70 and S80 will all fall into the sub-120 g/km category. Additionally, clever tech like Road Sign Information, Active High Beam and Tunnel Detection will be available on all larger models.
Responsible for the new lower emissions will be the new entry-level 5-cylinder, 2.0-litre turbo diesel engine. It will be available on all the aforementioned models plus the XC60. Branded D3, its power is expected to be 136 hp and 350Nm of torque. The transmission can be either manual or automatic. Also, excluding the XC60, all will come with a stop/start system.
The new diesel engine offer also includes the D2 with 115 hp, the D4 with 163 hp and the D5 with 215 hp. Here's how the CO2 situation looks:
| | | | | |
| --- | --- | --- | --- | --- |
| Model/Engine | D2 (115 hp) | D3 (136 hp) | D4 (163 hp) | D5 (215 hp) |
| S60 | 114 g | 114 g | 114 g | 119 g |
| V60 | 119 g | 119 g | 119 g | 120 g |
| V70 | 119 g | 119 g | 119 g | 126 g |
| S80 | 119 g | 114 g | 114 g | 120 g |
The D2 engine will remain with these figures, regardless of the available choice between manual and automatic.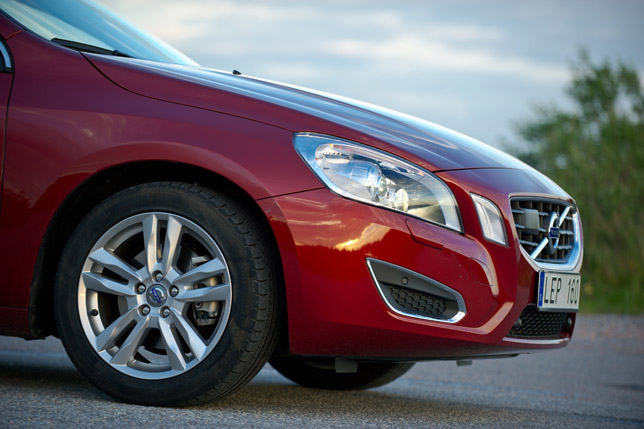 The Volvo S60, V60, XC60, V70, XC70 and S80 can also come with Road Sign Information, Active High beam and Tunnel Detection.
The Road Sign Information feeds your instrument cluster with the relevant road sign images as you go.
The new Active High Beam system knows when to switch between low and high beams automatically
Tunnel Detection means that the lights will be turned on immediately upon entering a tunnel.
The 2013 model year will also see the following updates:
A new 5spoke forged, 18inch aluminium wheel is available for the Volvo S60, V60, V70 and S80.
The 11spoke, 17inch Saga wheel for the Volvo V70 and S80 is updated with black contrast paint on the diamondcut parts.
The Volvo V70 gets an updated grille with glossy black details.
The brushed aluminium décor for the Volvo XC60 will also be available in the S60 and V60.
Sales are expected to kick off before the summer of 2012.
Source: Volvo