Volvo S60 TTA [first picture]
Volvo will switch to TTA - the Swedish Racing Elite League ahead of 2012 and today the first picture is released of the new racing car.
The new S60 TTA is entirely reworked. It comes with complete aerodynamic package, a new ventilated hood and enormous rear wing. The 18" ultralight wheels are wrapped in race slick tires. There is also a performance brake system.
The race car is powered by a V6 petrol and an electric motor with combined power 426PS (313 kW). The power is put on the road through 6-speed sequential transmission.
"We have had a big pressure on us from many curious Volvo enthusiasts as it is a new championship and a new racing car. That is why we chosen to reveal the car now. Our final team colors are going to be shown later, but this is our S60 in TTA racing specification," said Alexander Murdzevski, Commercial Director of Volvo Motorsport Sweden.
"We can't go in to that today. We are negotiating with three drivers, but we have other things that are more time pressing. Polestar and TTA are conducting the final tests at the same time as we are working on the hybrid system, producing the carbon fibre body shells and calibrating the aerodynamics for all cars in our wind tunnel," said Derek Crabb, Director of Volvo Motorsport.
"Motorsport must be cool, exciting and fair. We must fight our meanest competitors in our best selling models. We must be able to win by doing the best job and it should be easy for importers in the country to change racing car when changing model without the need of a heavy factory programme. We are really looking forward to the TTA - Racing Elite League 2012," finished Anders Gustafsson, Managing Director of Volvo Cars Sweden.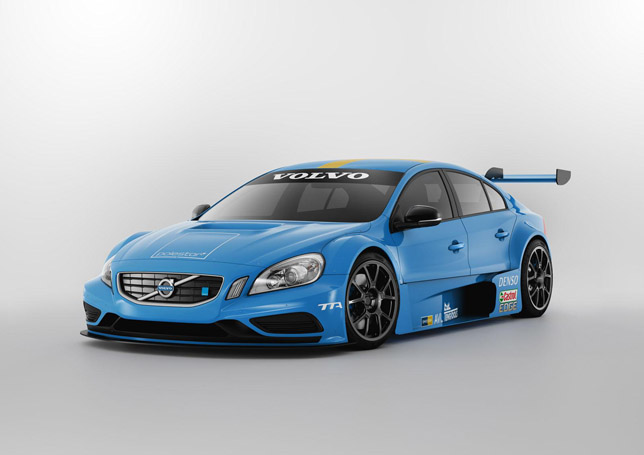 Calendar - TTA Racing Elite League
12/05 - Karlskoga 02/06 - Anderstorp 16/06 - Gothenburg 07/07 - Falkenberg 18/08 - Karlskoga 01/09 - Anderstorp 15/09 - Tierp Arena 29/09 - Gothenburg
Technical specification - Volvo S60 TTA
Length: 470 mm Width: 1970 mm Height: 1205 mm Wheelbase: 2750 mm Track width: 1660 mm front/1630 mm rear Suspension: Double wishbone, three-way dampers, etc. Body: Carbon fibre Engine: V6 with hybrid system Drive: RWD Power: 420 BHP Gearbox: 6-speed sequential with paddles on steering wheel Hybrid system: Kinetic Energy Recovery System (KERS) Rear wing: 1600 mm width/300 mm depth Brakes: Front: 4-piston calipers, 370 mm ventilated discs Rear: 4-piston calipers, 360 mm ventilated discs Rims: 18″ with centre wheel nut Tyres: Front: 260/660-18 Rear: 280/660-18
Source: TTA