VATH

Mercedes-Benz E63s AMG 4-matic

(

2023

)
VATH Mercedes-Benz E63s AMG 4-matic
For over 45 years, VÄTH Automobiltechnik GmbH in Hösbach, Germany, has been known far beyond its borders as a specialist for innovative and exquisite refinement of the Mercedes-Benz and AMG brands. By applying the latest technologies, coupled with many years of experience, VÄTH has not only established a highly respected reputation, but also a sworn clientele.
VÄTH has now taken on the Mercedes-Benz E63s AMG 4-matic and established a particularly special performance package for the noble vehicle - which already has an impressive 612 hp in the basic version. By means of VÄTH turbochargers, large intercooler and reworking of the intake system, as well as the exhaust system from the downpipes to the muffler system, VÄTH achieved a substantial increase in power to 879 hp for the E63s - electronically limited to 1,100 Nm.
With this extensive update, VÄTH not only achieved a fabulous increase in power, but also an impressive sound experience - candy for the eyes and ears, so to speak!
It should not go unmentioned that a transmission oil cooler has also been installed. This catapults the luxury sedan from 0-100 km/h in just 3.0 seconds and delivers a top speed of 345 km/h (locked).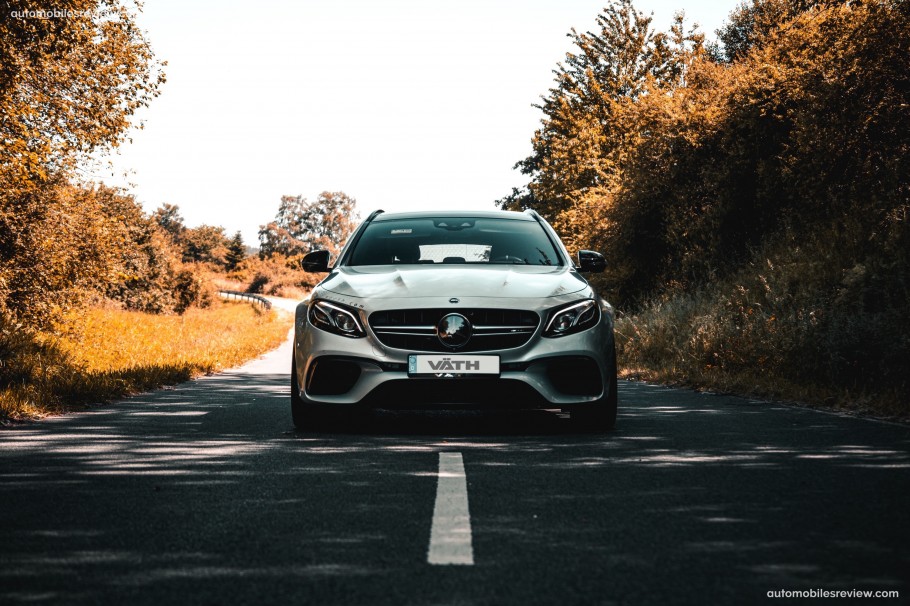 The standard 20 inch rims have been replaced by exclusive VÄTH wheels 3-piece in 21 inch with forged star. Michelin tires all around in 265mm width on the front axle and 295mm on the rear axle provide pleasant comfort.
VÄTH optimized the chassis by means of a minimal lowering of 20mm and special underbody struts ensure additional stiffening of the body. All in all, this achieves not only a rich, but also safe road holding.
The exterior has been subtly and tastefully enhanced by an aesthetic VÄTH front lip and roof edge spoiler.