2012 Ford Ranger Price - £15 515
The all-new Ford Ranger comes with more powerful engines, better fuel economy and nice vision.
The engine range includes a new 2.2 liter Duratorq TDCi four-cylinder diesel engine with 150PS (110 kW) and 375Nm (278 lb-ft) of torque. There is also a mighty 3.2 liter Duratorq TDCi five-cylinder diesel engine with a hefty torque of 470Nm (348 lb-ft) between 1700RPM and 3500RPM  and 200PS (147 kW).
The Ford Ranger is available in either two- or four-wheel drive versions with 6-speed transmissions in both manual and automatic. All the engines have also been calibrated to meet the most stringent emission standards worldwide, including Euro Stage V.
"The most basic requirement a customer wants from a pickup is torque and power," said David Mitchell, powertrain development manager, Ford Asia Pacific and Africa.
"Ranger not only delivers all that and more but is also able to do it in a way that sips less fuel.", he added.
The mighty 3.2 liter TDCi returns up to 28.3mpg on combined cycle with 4x4 and manual gearbox. The more economical 2.2 liter TDCi returns a nice 34.0mpg in a combined cycle.
The entry level 2012 Ford Ranger is priced from just £15 515, which makes it perfect value for money.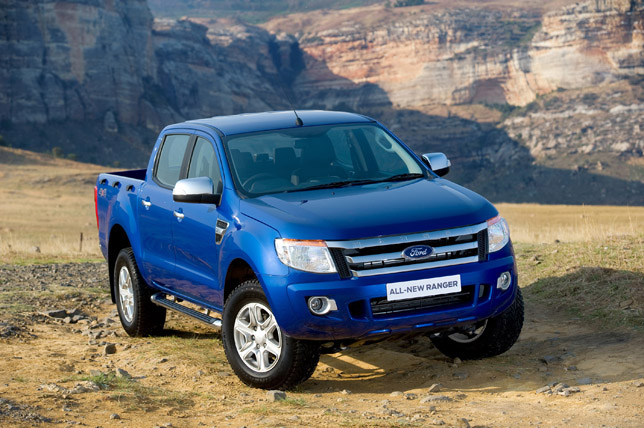 Integrated into the ESP are other new control features that assist vehicle stability and control:
Hill Descent Control: Helps the driver on steep downhill grades
Hill Launch Assist: Helps the driver pull away on steep climbs
Trailer Sway Control: Provides stability control when towing a trailer
Adaptive Load Control: Optimal vehicle stability regardless of vehicle load
Emergency Brake Assist: Provides additional brake pressure in emergency stopping manoeuvres
Emergency Brake Light: Signals to other drivers by flashing the indicators when the vehicle decelerates quickly
Roll-Over Mitigation: Helps prevent the vehicle getting into a roll-over situation
Source: Ford