2012 Geneva Motor Show: Disco Volante Concept
Touring Superleggera has announced the staggering Disco Volante Concept at the 2012 Geneva Motor Show. It is inspired by an old Alfa Romeo and features two seats and powerful V8 engine at the front.
The Disco Volante shares a lot of details from 8C Competizione like the engine, suspension and some other elements.
The mighty 4.7 liter V8 delivers 450PS (331 kW) and 470Nm (347 lb-ft) of torque. It is mated to an electronically controlled 6-speed sequential gearbox with paddle-shifters on the steering wheel. All that power is sent to the rear wheels through a LSD (limited slip differential) ensuring perfect traction at every conditions and even in sport driving. 0-100 km/h in 4.2 seconds and a top speed of 292 km/h (181 mph).
We just can't imagine what will be the price of this car, because every one of these needs more than 4000 hours of highly skilled artisan and engineer work to be completed. Furhtermore, it needs an entire Alfa Romeo Competizione 8C for donor parts.
Stay tuned for more information about this interesting sports vehicle and check out the full specs, below!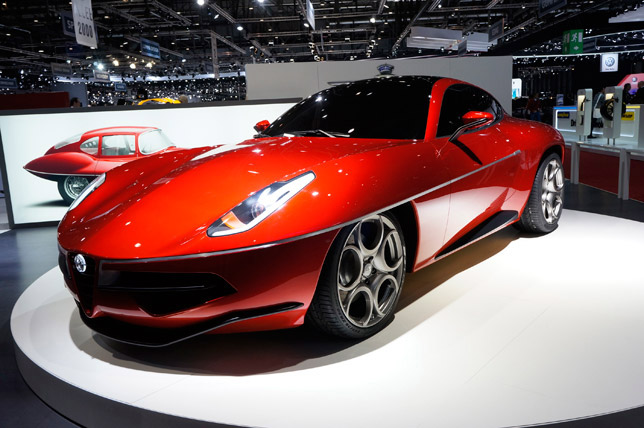 TECHNICAL DATA
Dimensions Length mm 4,613 Width mm 2,020 Height mm 1,335 Wheelbase mm 2,696 Track front/back mm 1,591/1,589 Boot volume l ca. 200 Fuel tank capacity l 88
Engine Cylinders / type - 8 / V 90° Cubic capacity cm³ 4,691 Nominal output kW/CV@ rpm 335.6/450@7,000 Max torque Nm@rpm 470@ 4750 Emission standard Euro 5
Driveline 6-speed, electroactuated sequential gearbox with paddle-shift control and automatic mode. Limited slip differential.
Wheels Tires Pirelli PZero Rosso, front 265/35 ZR20, rear 285/35 ZR20 Wheel type Aluminium forged wheels
Performance Top speed (est.) kph 292 Acceleration (est.) 0-100kph 4.2 sec.
Source: Touring Superleggera