Alfa Romeo 4C Safety Car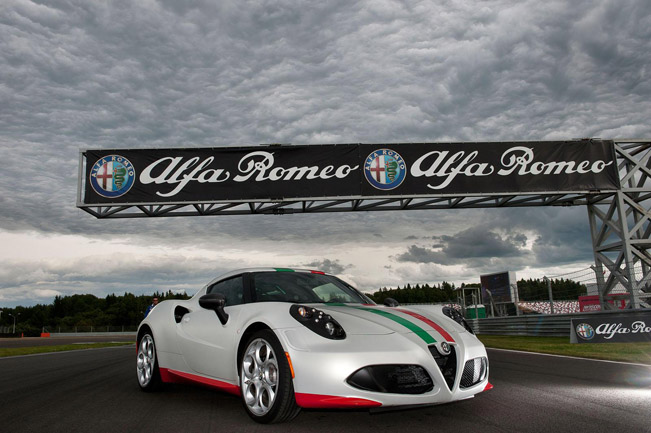 Alfa Romeo 4C will be Official Safety Car to the Silverstone round of the FIM World Superbike Championship this weekend (Sunday, 4th August).
The second UK round of the FIM World Superbike Championship visits the Northamptonshire circuit at the weekend, when top sponsor Alfa Romeo will bring a special liveried Alfa 4C as Official Safety Car to the round.
Following its dynamic UK debut at the Goodwood Festival of Speed, the Alfa 4C will make this second UK outing of the summer liveried in the red, white and green colours of the Italian flag.
For UK fans of Alfa's eagerly anticipated new model, this will be another rare opportunity to see the stunning 240hp compact sports coupé in action.
"Alfa Romeo is a proud sponsor of the FIM World Superbike Championship having been associated with the series for seven years now. As we prepare to launch the Alfa 4C here in the UK, it's fantastic to be able to showcase this car to the public for a second time as it takes to the prestigious Silverstone circuit.", commented Damien Dally, Head of Brand at Alfa Romeo UK.
The 4C is powered by a 1.8 liter turbocharged petrol with 240HP (176 kW) and 350Nn (258 lb-ft) of torque mated to a 6-speed  dual-clutch gearbox sending the power to an LSD (limited-slip differenetial) at the rear wheels. 0-100 km/h in just 4.5 seconds and a top speed of 250 km/h (155 mph) – electronically limited.
Source: Alfa Romeo