BugattiPassion Unveils First Image Of Next Legend Edition Veyron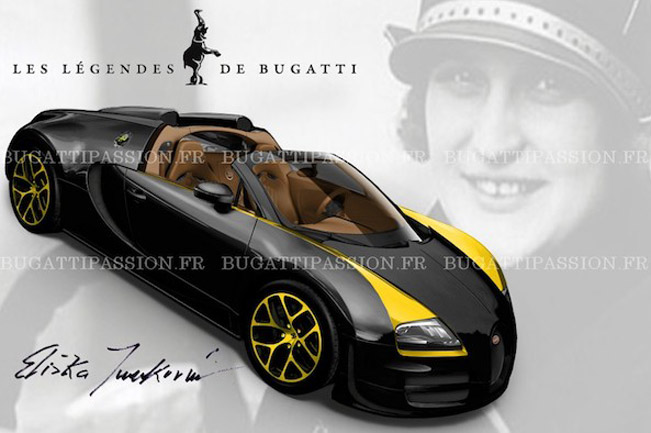 Yesterday, Bugatti announced that the Rembrandt Bugatti Veyron Legend Edition has already been sold after its successful premiere at the Geneva Motor Show last week. Today we found a reportedly official render of the next Legend in Brand's exclusive line-up.
Bugatti Veyron Grand Sport Vitesse Elizabeth Junek is the fifth model of the special edition series and will have its reveal later this year. In fact, we are actually expecting to see it debuting at the Beijing Auto Show.
Similarly to all other Legends, this new Bugatti will be based on the Veyron Grand Sport Vitesse, and its production will be limited up to three units. Another thing in common is also the price of the supercar, which will be around 2 million Euros. Of course, we can also expect that the roadster will be quipped with the same 8 litre W16 engine. The unit produces the unparalleled 1,200 hp (882 kW) and 1,500 Nm (1107 lb-ft) of torque.
The model has been dedicated to the prestigious Czech female racer Elizabeth Junek which had great achievements in the first half of the last century. As visible on the render, this Veyron will sport a two-tone black and yellow exterior. This is not occasional, but is a reference to the colors utilized by Junek on her race cars.
We can see also the same two-tome combination on the wheels. Slightly seeable is the interior, which is wrapped in brown leather upholstery, and will probably also include the name of the racer on the door-sills and headrests.