Final Lap For Veyron: 50 Bugatti Veyrons To Go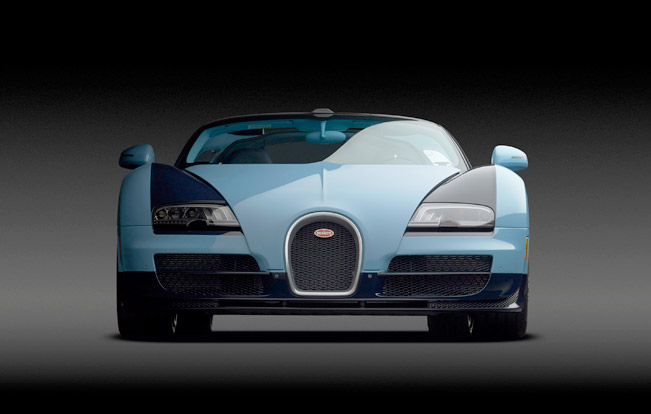 The 400th Veyron has been sold and this means that only 50 models of the super sports car are still available. The car under the number four-hundred is the Grand Sport Vitesse "Jean-Pierre Wimille" of the six-part edition "Les Légendes de Bugatti".
Since the start of the production, Veyron and its variants were limited to just 450 models. And now Bugatti begins its final lap of the super sports car's journey. In fact, the car was launched in 2005. All coupes since then were sold ant their number is 300: the Veyron 16.4 with 1001 hp (736 kW) and the Veyron 16.4 Super Sport with 1200 hp (882 kW). One hundred of the roadster variant were sold and are left only 50.
The Vitesse "Jean-Pierre Wimille" is the final in the exclusive six-part edition "Les Légendes de Bugatti". The series was launched in August at California's Pebble Beach Concours d'Elegance. Then, the second Legend car came out - "Jean Bugatti", which was presented at the International Motor Show in Frankfurt. In November the third Legend Edition which was dedicated to Meo Costantini was revealed at the Dubai International Motor Show.
As a basis for the Legend cars is used Bugatti Veyron 16.4 Grand Sport Vitesse, which is famous for its 1200 hp. The car is powered by an eight litre, 16 valve engine and is capable of accelerating from 0 to 100 km/h in just 2.6 seconds and from 0 - 200 km/h in only 7.1 seconds. The unique super sports car achieves an impressive 1500 Nm (1107 lb-ft) of torque between 3,000 and 5,000 rpm.
Without doubt, Veyron sets standards: it is the most powerful and fastest car ever produced and in addition it can be used every day. Bugatti Veyron Grand Sport Vitesse Jean-Pierre Wimille Edition is priced at €2.13 million ($2.910.432 USD).
Source: Bugatti