Duke Dynamics and SR Auto Collaborate to Show Stunning BMW Z4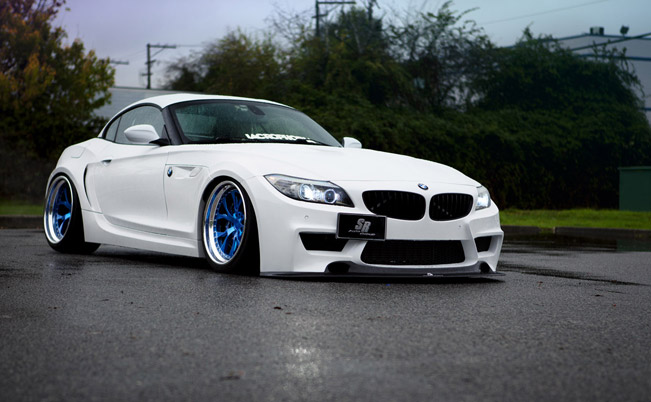 It is very rare to see a tuning which involves the extremely sport BMW Z4. And this project by Duke Dynamics is one of these examples. For it, the tuners have collaborated with the experts at SR Auto Group to create the stunning visual appeal of the Z4. In fact, the car can now show-off with a new body, due to the addition of Duke Dynamics wide body kit.
It comprises of Duke Dynamics front bumper, which lends the car more aggressive styling compare to the stock front facial and includes honeycomb mesh. In the kit there are also featured new wide front and wide rear fenders, side skirts and rear bumper.
But this is not all of it: Duke Dynamics vented hood is made of lightweight carbon fiber contributing towards weight saving. The vents can be closed or open with the mesh. At last, company's rear diffuser is inspired and developed for a perfect blend of graceful appearances. It ensures the effective downforce for the BMW and features Eisenmann sport quad exhaust system.
With this widened exterior, the tuners at SR Auto Group were seduced to fill up the larger fenders. As a result, they have added a set of forged three piece PUR LG02 wheels, which were specifically engineered specifically for the widebody Z4. They are finished with an electric blue face and include polished lip. The size is measured at 19×9" at the front and 19×11 at the back.
This enriched and outstanding BMW Z4 model is a synonym for style, speed and performance, and more importantly is capable of producing the staggering 245 horsepower (180 kW). The torque it produces is 350 Nm (260 lb-ft). The result is that the Z4 absolutely effortlessly accelerates from 0 to 100 km/h in only 5.7 seconds.
Source: SR Auto Group