2012 Hyundai i-oniq concept unveiled in Geneva
Hyundai finally unveiled its latest European concept car, which carries the name i-oniq. The debut took place at the 2012 Geneva Motor Show, and included a showcase of new technology and design which present an impression of the company's future thinking. The concept vehicle is 4,4 meters long and is an electric sports hatchback with a range-extending petrol engine. The design of the car is an evolution of the company's fluidic sculpture form language. The car has dynamic proportions which create aesthetic and functional body shape. In addition the design conveys premium and athletic qualities evident in both the exterior and interior of the car. Furthermore, unique design elements were included in the car, for instance the "penthouse roof" and LED headlights, which emphasize the advanced technology encased within i-oniq. What is so special about the roof is that it is significant solution which delivers great space for rear passengers and contributes to the overall dynamic appearance. Other fascinating features of the 2012 Hyundai i-oniq are the doors. They open up to the side, thank to weight-optimization. In addition the featured seat kinematics make entering the car's front and rear seats a simple maneuver. Moreover, the headlights contained in uniquely-shaped polished aluminium frame which forms unique signature light element.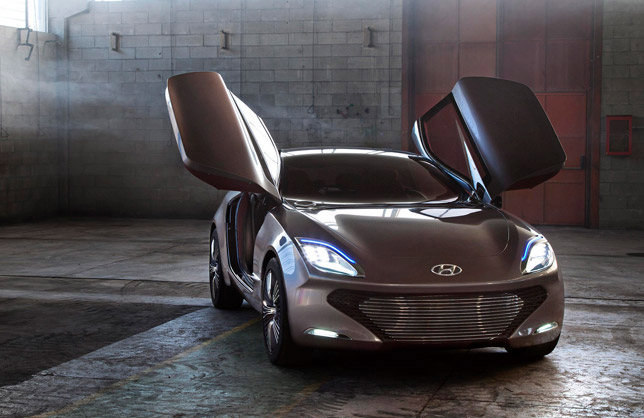 2012 Hyundai i-oniq concept
And what about the interior of the concept car: the cabin layout is driver-oriented, with the dashboard and centre-console geometry based around the driver. In addition, the user-interface components reflect contemporary and future consumer electronics technology. What we can find here is the movement control mounted on the steering wheel, floating instrument cluster with multi-layered projection, and a large background display for navigation, entertainment and other information. At the rear of the cabin has been designed unique lounge area, which ensures maximum occupant comfort. It creates positive contrast to the sports-orientated front area. Of course, the comfort in the car is additionally complemented through the use of luxurious interior materials, as well as futuristic interface components.
To go even further into details, the 2012 Hyundai i-oniq concept vehicle is powered by an innovative 1,0-litre, 3-cylinder petrol engine, which delivers a maximum of 45 kW (61 hp). This unit is mated to an 80 kW (109 hp) lithium-ion electric motor which is powered by a 55 kW generator, via a single ratio gearbox. In electric-only mode, the concept can travel 120 km (74 miles) and up to 700 km (435 miles) with the assistance on the petrol engine, emitting only 45 g/km of CO2emissions! Hyundai i-oniq concept can reach a top speed of 145 km/h.
Specifications
| | |
| --- | --- |
| Engine | 1,0-litre, 3-cylinder gasoline engine (45 kW) |
| Motor | 80 kW |
| Power output | 80 kW (109 ps) |
| Wheelbase | 2.650 mm |
| Overall length | 4.432 mm |
| Overall width | 1.916 mm |
| Overall height | 1.400 mm |
| Tires | Dunlop |
| CO2 | 45 g/km |
| Steering wheel | Touch sensor with motion-control system |
Source: Hyundai