2013 Hyundai i30 Wagon
Just few days before the awaited 2012 Geneva Motor Show, the New Generation 2012 Hyundai i30 Wagon has been previewed in the web. The vehicle is going to make its world debut at the aforementioned show. This is the second member of the New Generation i30 family, next to the joins the five-door hatchback. In addition, the classy wagon will also share the engines and the running gear with the well-received New Generation i30 five-door. However, it has a longer body which opens significant increase in trunk space without compromising the model's dynamic styling. To be more precise, the i30 wagon's overall length is increased by 185 mm to its five-door sibling, and 10 mm longer than the original i30 wagon. Moreover, the wagon is expanded in trunk space from 378-litres to best-in-class 528-litres. Additionally, when the passenger seats are folded down, the cargo volume increases more than three times: up to 1642-litres.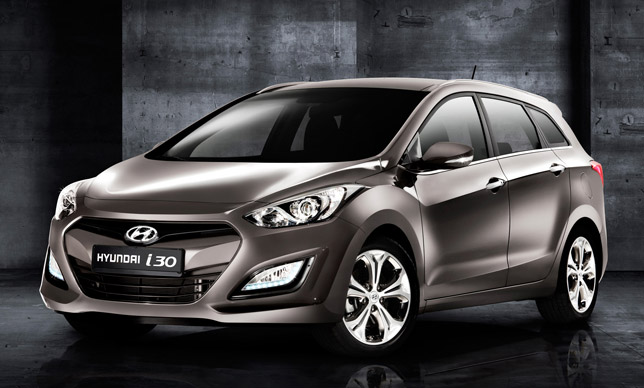 Furthermore, the front of the new model can be easily distinguished by Hyundai's hexagon-shaped grille and jewel-like headlamps. The roofline is extended rearwards over the flexible passenger/cargo area. This adds more dynamism to the car's stance and keeps up with the fluidic sculpture ethos of a stationary car appearing to be in motion. Additional improvements to the wagon's dynamic appearance are for example the pronounced swage line which runs horizontally along the sides of the body and rises all the way to the rear lights; or the rear windscreen which wraps around the D-pillars and improves interior luminosity and visibility; or the deep tailgate, which gives the car a clean look and opens to bumper-level for easy loading.
The New Generation 2013 Hyundai i30 Wagon will be available in Europe with the same three petrol direct injection engines and three diesel engines as the five-door hatchback. They produce from 95 hp (70 kW) to 135 hp (100 kW). At last, the New Generation i30 wagon will be unveiled alongside Hyundai's other newcomers during 2012 Geneva Motor Show.
Source: Hyundai