What Makes Klässen iD Lamborghini Huracan LP 610-4 So Stylish?

Lamborghini Huracan LP 610-4 is one of the top cars out there and it is always nice to see when there are some custom projects involving its presence. Even the small changes are making an impression when it comes to stylish choices and good combinations. For this reason we decided to feature a project today that involves a slightly modified Lambo.
So, this time the customization specialists are those at Klässen iD. As company's representatives say, Klässen iD was founded by enthusiasts who dreamt of manufacturing innovative forged monoblock and multi-piece wheels. Having decades of experience, the experts have created one of the best wheel-designs out there. And this is clearly visible through this Lamborghini, which looks amazing.
Born for Competition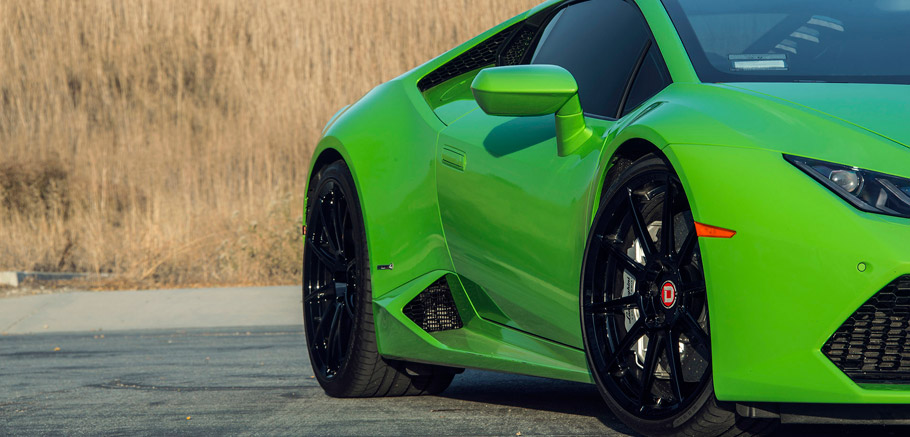 We can't argue that the Lamborghini Huracan LP 610-4 is born for competition, right? For this reason, Klässen iD has given its special Competition Series wheels, called M10R, and the Huracan is now proudly rolling on them. The dimensions at the front and rear are 20x9 and 21x12, respectively.
SEE ALSO: 2017 Lamborghini Aventador SuperVeloce Roadster And the First Images
In fact, these alloys have been specifically machined for the Huracan. The process which the specialists are using allow for a custom width and offset, and therefore for more individual appeal. In addition, the wheels look fantastic in this Piano Black finish that perfectly contrasts the poison green exterior color of the Lambo.
More Power?

Since Klässen iD is a company which puts an emphasis mainly on wheels, the car did not receive any other changes, including the engine. This means that the 5.2 liter V10 keeps its production 610 horsepower (448 kW) and 560 Nm (413 lb-ft) of torque.
The engine is linked to a 7-speed dual clutch transmission and an all-wheel drive system. Of course, this will still allow Lamborghini Huracan LP 610-4 to cover the 0-100 km/h acceleration sprint in 3.2 seconds, and the 0-200 km/h in 9.9 seconds, running after a top speed of 325 km/h (202 mph).
Although, this version of the Huracan can not show more horsepower or faster performance, it is still an example, how cool it could look with minimum changes. There is also a video, which Klässen iD has released next to the very cool photos you can view in our gallery below.
Source: Klässen iD