Toyota Back to the Future Mirai Concept or Who Brought the Outdated Gullwings Back?

Toyota Back to the Future Mirai is one of the cars exhibited at Toyota's booth at the SEMA Show this week. Surprisingly enough, the car is called "Back to the Future" as a part of the Back to the Future 30th Anniversary Trilogy, and this obviously equals removing the four doors and adding gullwings. Considering they are definitely out of date, as modern and cool as they might look to some, this car (in my opinion) will never see anything but the red carpet on special events like this… No, not even in the near future.
In fact, this vehicle 'looks ready for the fourth dimension', but if we were still living in the 80s. But if you are fan of the series (not like me unfortunately), then you should definitely go and see the Back to the Future-inspired Mirai.
SEE ALSO: Toyota Celebrates a Special Anniversary with a Special Concept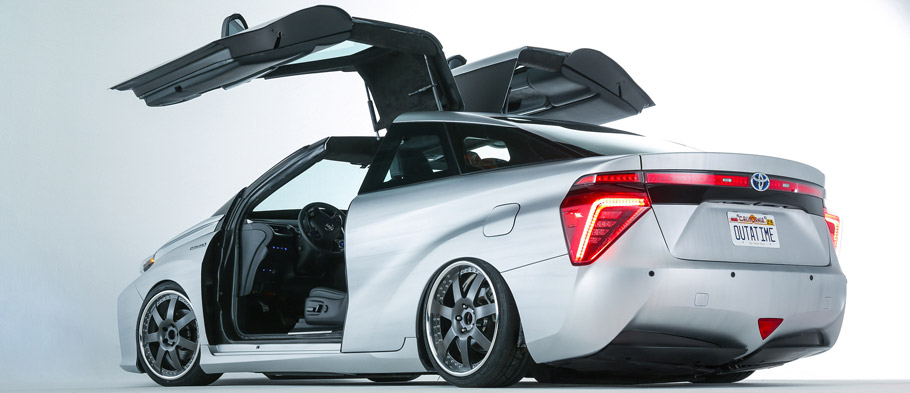 Despite the outdated and erroneous gullwings, this redesigned SEMA-bound Mirai has some advantageous features. First, I have to mention that the car is reworked by the specialists at MV Designz, who helped Toyota re-desing Doc Brown's time machine.
So what's in this Mirai "time machine"? It includes a list of modifications that need to be addressed. Besides the conversion of the body style (from four-door to two-door), the car is defined by 19-inch custom "Infinity" LED wheels and tires, that look pretty good in the dark. By the way, there is a blue LED lightning added throughout the entire vehicle.
What is more, MV Designz decided to equip the hybrid with custom air-ride suspension and applied brushed-aluminum paint scheme to the exterior. Other cool things about this Mirai concept feature heads-up destination clock display, integrated tablet replacing original equipment head unit as well as flux capacitor housed in a custom center console.
Well, it seems not that bad after all… Or wait a minute! Aren't these gullwings entirely inappropriate?

Source: Toyota