Grab Some Team Spirit With Vauxhall'S New VX Racing Models
With the 2009 BTCC season almost upon us, Vauxhall has just launched two stunning limited editions based on the Corsa and Astra VXR to celebrate VX Racing's success in the 2008 British Touring Car Championship.
Known as the Corsa and Astra VX Racing Editions, they will have a combined production run of 888 cars. And that number just happens to coincide with the name of Vauxhall's race experts, Triple Eight Engineering, who build and prepare all  the VX Racing Cars and contributed so much to Vauxhall's triumph in the BTCC last season when it won the BTCC's Drivers', Manufacturers' and Team championships.
As well as sharing the VX Racing team colours of red and black, all VX Racing Editions gain full leather Recaro seats as standard. The VX Racing theme continues outside the car with logos on the B-posts and tread plates, too.
And just to make sure that you'd never mistake a VX Racing Edition from an 'ordinary' Corsa or Astra VXR, tinted rear glass, a black rear diffuser and black side bump strips and door mirror covers are all part of the package. In addition, the Astra version gains Piano Black interior décor strips.
We're also sure that VX Racing's drivers, Giovanardi, Neal and Jordan would appreciate the gloss-black alloy wheels – 18" for Corsa, 19" for Astra – that come as standard on all VX Racing Editions.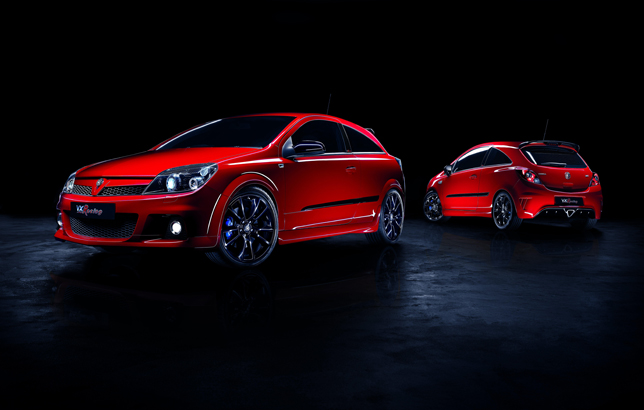 Finally, for that authentic VX Racing soundtrack – as well as up to 20PS extra power – all VX Racing Edition buyers will have the option of purchasing a Remus exhaust system at a discounted price. For Astras, that means £720 (saving £275) and for Corsas, £410 (saving £150). Buyers will also benefit from a healthy discount on other Vauxhall Performance Centre parts and accessories.
Corsa and Astra VX Racing Editions are available to order now through all Vauxhall retailers, costing £17,425.00 and £21,445 respectively.
Team spirit never looked so good…